Sage Policy Profiles is a new tool that enables researchers to discover how their work is impacting policy.
Powered by Overton, the world's largest searchable index of policy documents, guidelines, think-tank publications and working papers, the tool allows researchers to discover where their research is cited in policy documents and easily visualize and share what they find. 
Sage is inviting early testers to try out this free tool and provide feedback. Simply create a profile, spend a few minutes searching for policy mentions, and then share your thoughts in a brief survey. For every survey completed before November 6, Sage will add $10 to our standing donation to the Researchers at Risk program, which provides funding to researchers under threat.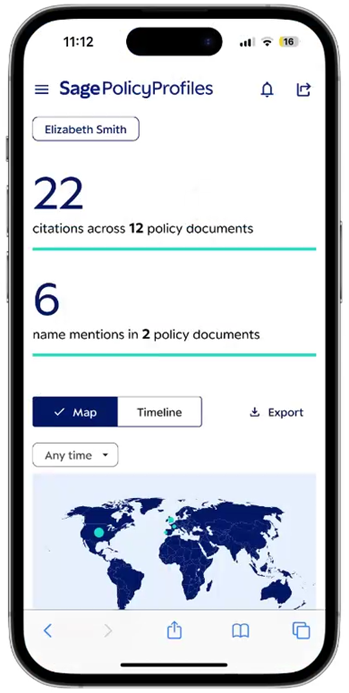 How does Sage Policy Profiles Work?
Sage Policy Profiles allows researchers to discover the impact of their own work on public policy and provides the tools needed to communicate the impact that is discovered. The tool presents results in a personalized dashboard that enables researchers to discover the exact location of citations in policy documents, export policy mentions, visualize data in different formats, and share the results with their networks.

The tool can be a game-changer for scholars working to improve policy through their work, and will help expand how we understand research impact from purely scholarly terms to how research benefits policy, practice, and the public. In early testing, researchers cited interest in using the results on personal websites, in front of tenure and promotion committees, and in grant proposals. 
Sage Policy Profiles is something researchers in all disciplines should add to their arsenal. But given social and behavioral science's outsized impact in the policy world, we've housed it on Social Science Space to support policy-focused social and behavioral researchers and to bring attention to the unique, real-world value social and behavioral science brings.
Check out examples of the visualizations available through Sage Policy Profiles below, and try the free tool for yourself.