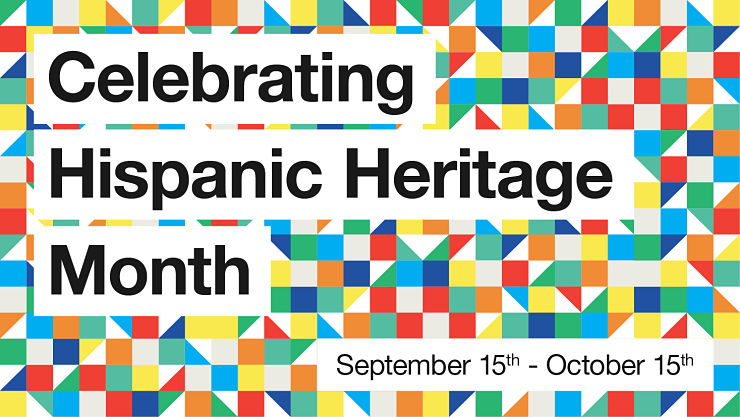 National Hispanic Heritage Month, September 15 through October 15, celebrates the "histories, cultures and contributions of American citizens whose ancestors came from Spain, Mexico, the Caribbean and Central and South America," according to the official website. (And here's this year's official proclamation from the U.S. government marking the month.)

To support those interested in the social and behavioral science related to this month, SAGE Publishing developed this collection to examine the experiences of Hispanic/Latine populations primarily located within the United States. (Read this post on the background of those terms.)  Drawing from a range of social and behavioral science disciplines and scholars, the insights and recommendations often transcend borders, with broad implications for education, healthcare, and public policy.
The articles in this collection are organized within four broad thematic categories: Intersectional Hispanic/Latine Identities; Education; Health and Wellness; and Discrimination, Politics, and Activism.
Below, you'll find research on the ways that identities are constructed—both on and offline—and how different cultural values affect family ties, mental health, student outcomes, and political participation. Several authors examine colorism within Latine communities and research the mental and social impacts of discrimination under the U.S. educational, immigration, and criminal justice systems. Others discuss unique modes of resilience and resistance, from female artists in Spain subverting machismo through the appropriation of traditionally sexist musical forms to educators using Mexican American folklore to foster cultural competence in their students.
Intersectional Hispanic/Latine Identities
"'Latino' or 'Hispanic'? The Sociodemographic Correlates of Panethnic Label Preferences among U.S. Latinos/Hispanics" | Daniel E. Martínez and Kelsey E. Gonzalez in Sociological Perspectives
"The Complexity of the "x" in Latinx: How Latinx/a/o Students Relate to, Identify With, and Understand the Term Latinx" | Cristobal Salinas in Journal of Hispanic Higher Education
"Out of the Shadows, into the Dark: Ethnoracial Dissonance and Identity Formation among Afro-Latinxs" | Elizabeth Hordge-Freeman and Edlin Veras in Sociology of Race and Ethnicity
"What Does It Mean to Be Mexican (American)? Exploring Youth Ethnic Identity" | Halleh Hashtpari, Karen W. Tao, Kritzia Merced, Joél Arvizo-Zavala, and James Hernández in The Counseling Psychologist
"Latinx Digital Memory: Identity Making in Real Time" | Melissa Villa-Nicholas in Social Media + Society
"Social movements as agents of change: Fighting intersectional food inequalities, building food as webs of life" | Renata Motta in The Sociological Review
"Finding Feminism through Faith: Casa Yela, Popular Feminism, and the Women-Church Movement in Chile" | Hillary Hiner in Latin American Perspectives
"Marianismo Beliefs, Intimate Partner Violence, and Psychological Distress Among Recently Immigrated, Young Adult Latinas" | Nicole Da Silva, Toni R. Verdejo, Frank R. Dillon, Melissa M. Ertl, and Mario De La Rosa in Journal of Interpersonal Violence
"Feminist Reggaeton in Spain: Young Women Subverting Machismo Through 'Perreo'" | Núria Araüna, Iolanda Tortajada, and Mònica Figueras-Maz in YOUNG
"Intersectionality, Linked Fate, and LGBTQ Latinx Political Participation" | Julie Moreau, Stephen Nuño-Pérez, and Lisa M. Sanchez in Political Research Quarterly
Education
"Troubling the Essentialist Discourse of Brown in Education: The Anti-Black Sociopolitical and Sociohistorical Etymology of Latinxs as a Brown Monolith" | Christopher L. Busey and Carolyn Silva in Educational Researcher
"Resilience Through Family: Family Support as an Academic and Psychological Protective Resource for Mexican Descent First-Generation College Students" | Amber Jimenez, Brandy Piña-Watson, and Gabriela Manzo in Journal of Hispanic Higher Education
"Employing Mexican American Folklore as an Educational Tool to Teach Cultural Competence" | Leyla Feize, Denise A. Longoria, and Alfredo Fernandez in Journal of Hispanic Higher Education
"Experiences of Latino Children Attending Rural Elementary Schools in the Southeastern U.S.: Perspectives from Latino Parents in Burgeoning Latino Communities" | José A. Villalba, Maria Brunelli, Lucy Lewis, and Dean Orfanedes in ASCA | Professional School Counseling
"The Effect of Diversity Climate on Institutional Affiliation/Pride and Intentions to Stay and Graduate: A Comparison of Latinx and Non-Latinx White Students" | Monica C. Gavino and Ekundayo Akinlade in Journal of Hispanic Higher Education
"STEM Identity Development for Latinas: The Role of Self- and Outside Recognition" | Sarah Rodriguez, Kelly Cunningham, and Alec Jordan in Journal of Hispanic Higher Education
Health and Wellness
"COVID-19 Pandemic Among Immigrant Latinx Farmworker and Non-farmworker Families: A Rural–Urban Comparison of Economic, Educational, Healthcare, and Immigration Concerns" | Sara A. Quandt, Natalie J. LaMonto, Dana C. Mora, Jennifer W. Talton, Paul J. Laurienti, and Thomas A. Arcury in NEW SOLUTIONS: A Journal of Environmental and Occupational Health Policy
"Discrimination and Latino Health: A Systematic Review of Risk and Resilience" | Nadia Andrade, Athena D. Ford, and Carmen Alvarez in Hispanic Health Care International
"Immigration Policy and Belonging: Ramifications for DACA Recipients' Sense of Belonging" | Marie L. Mallet-García, and Lisa García-Bedolla in American Behavioral Scientist
"Mexican Traditional Medicine: Application of a Traditional and Complementary Medicine System to Improve Opioid Use Treatment in Latinos" | Tanya R. Sorrell in Journal of Holistic Nursing
"Anxiety sensitivity and acculturative stress: Concurrent relations to mental health among Spanish-speaking Latinx in primary care" | Michael J. Zvolensky, Jafar Bakhshaie, Justin M. Shepherd, Natalia Peraza, Andres G. Viana, Rheeda L. Walker, Monica Garza, Melissa Ochoa-Perez, and Chad Lemaire in Transcultural Psychiatry
"Exploring Why Adult Mexican Males Do Not Get Vaccinated: Implications for COVID-19 Preventive Actions" | V. Nelly Salgado de Snyder, Deliana Garcia, Roxana Pineda, Jessica Calderon, Dania Diaz, Alondra Morales, Brenda Perez in Hispanic Journal of Behavioral Sciences
"Attachment and Wellness Among Latinx Immigrants: Meaning in Life, Belonging, and Hope as Mediators" | Andrew J. Shelton, Chiachih DC Wang, and Ivan Carbajal in The Counseling Psychologist
Racial Discrimination, Politics, and Activism
"Collateral Subjects: The Normalization of Surveillance for Mexican Americans on the Border" | Adriana C. Núñez in Sociology of Race and Ethnicity
"Social Media Expression as a Collective Strategy: How Perceptions of Discrimination and Group Status Shape US Latinos' Online Discussions of Immigration" | Alcides Velasquez and Gretchen Montgomery in Social media + Society
"How Social Ties with Undocumented Immigrants Motivate Latinx Political Participation" | Marcel Roman, Hannah Walker, and Matt Barreto in Political Research Quarterly
"Latino Immigrant Parents' Experiences With Discrimination: Implications for Parenting in a Hostile Immigration Policy Context" | Cecilia Ayón and San Juanita García in Journal of Family Issues
"'Cops Only See the Brown Skin, They Could Care Less Where It Originated': Afro-Latinx Perceptions of the #BlackLivesMatter Movement" | Elizabeth Hordge-Freeman and Angelica Loblack in Sociological Perspectives
"Predictors of Police Reporting Among Hispanic Immigrant Victims of Violence" | Dane Hautala, Kirk Dombrowski, and Anthony Marcus in Race and Justice
"How Race Counts for Latinx Homeownership" | Brandon P. Martinez and Alan A. Aja in Critical Sociology
"How Other Minorities Gained Access: The War on Poverty and Asian American and Latino Community Organizing" | Jae Yeon Kim in Political Research Quarterly
"Room for Discussion: An Examination of Political Discussion Amongst Latinxs in Various Social Contexts" | Matt Lamb in the Hispanic Journal of Behavioral Sciences
"Toward a Psychological Framework of Radical Healing in Communities of Color" | Bryana H. French, Jioni A. Lewis, Della V. Mosley, Hector Y. Adames, Nayeli Y. Chavez-Dueñas, Grace A. Chen, and Helen A. Neville in The Counseling Psychologist