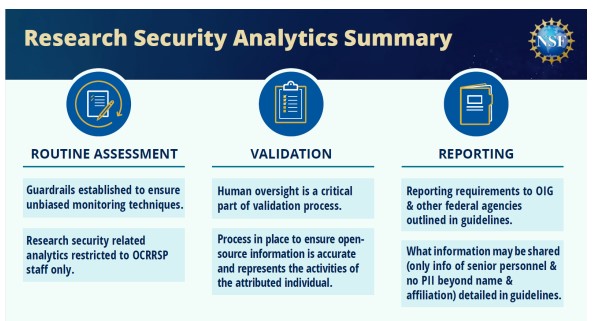 Reflecting concerns that foreign governments have illicitly obtained research developed by the United States, posing threats to research security and hindering international collaboration, the National Science Foundation released "NSF Guidelines for Research Security Analytics." The report provides NSF program staff and leaders at grant rewarding agencies with guidance for how to objectively review research proposals despite these outside threats.
"Select practices by some governments have conflicted with our values and culture of open science. This has required the U.S. scientific enterprise to adjust its policies and programs to ensure that international science continues to benefit the nation while minimizing risks to our economic and security interests," Rebecca Lynn Spyke Keiser, chief of research security strategy and policy for the U.S. National Science Foundation, wrote in a foreword. "These efforts have resulted in thorough analyses being conducted with the recurring conclusion that the United States continues to benefit from fostering a collaborative, welcoming environment for international science."
The guidelines establish that research security concerns cannot be a factor in the merit review process of candidates and that program staff cannot conduct information querying activities that relate to national origin and identity. Instead, program officers are to report concerns or inconsistencies about research candidates to the Office of Chief Research Security Strategy and Policy (OCRSSP). The OCRSSP is the only NSF entity allowed to conduct work related to research security analytics including advanced monitoring and verification of candidates.
To conduct its research security analytics, the OCRSSP staff have used resources like Elsevier SCOPUS, Web of Science and the U.S. Patent and Trademark Office Patent Database. If an NSF program officer observes a concern during the merit review process about the information a candidate disclosed related to foreign affiliation or funding, the program officer is responsible for reporting the issue to the OCRSSP and their supervisor. The OCRSSP will then validate the concern and will address the issue with the awardee institution or share the inconsistencies with federal agencies if appropriate.
The report was developed to align with various other policies and guidelines including the Chips and Science Act of 2022 and the National Security Presidential Memorandum 33 (NSPM- 33), along with NSF's own terms and conditions, proposal and award policies and procedures guide. The Chips and Science Act aims to strengthen research in the United States, and the NSPM-33 provides a policy for protecting U.S. government-supported research from international interference.
"Unfortunately, some foreign governments, including the People's Republic of China, have not demonstrated a reciprocal dedication to open scientific exchange, and seek to exploit open United States and international research environments to circumvent the costs and risks of conducting research, thereby increasing their economic and military competitiveness at the expense of the United States, it allies and its partners," the NSPM-33 reads.