This blog post builds on the introduction to spatially-led video interviews. This article outlines the process of taking such digital material and working with writers, dramatists and performers to develop site-specific theatre. Over two workshop days we worked through ways to represent how everyday life changed during the 1960s in Newport, a city in Wales. The main outcome from our exercise was to develop performative pieces that will be part of public walk in September 2022. These works of 'street theatre' will be the subject of my third blog article for Social Science Space.
To start at the beginning, read the first post in the series: "Using Video to Facilitate and Record Spatially-Led Interviews"
Setting
Our base for the two days was a concrete building on Bridge Street in Newport. The structure captures the project in many ways: downstairs was previously Newport's central post office, where people posted parcels, collected official forms, and swapped their cash for foreign currency; the upstairs housed a large nightclub variously called Ritzy and Fire and Ice. There is no longer a demand for these former uses and the building is being used by Tin Shed Theatre Company before a planned redevelopment. Just being in the building we were able to sense how technologies and fashions arrive and get replaced by others.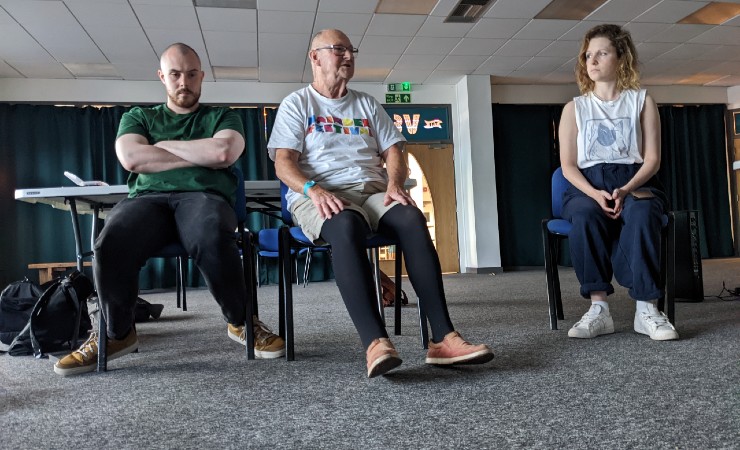 Putting a team together
Our team included George from Tin Shed Theatre, director Sam, performers Bob, Ty and Matt, and producer Angharad. Initially, I was unsure how to share the essence of so much material. The video interviews were each over an hour, my PhD thesis was 100,000 words, and I had recently spent months writing a journal article about the everyday spaces of the 1960s. I felt like an expert in my field, but also needed to let go. George created a cinema space where I shared three-minute video clips edited down from the larger interviews. I also read out some small excerpts from my PhD thesis. We listened to publicly-available interviews about people who were moved to new suburban housing estate as their old houses were demolished, captured by researcher Jessica Hammett.
We also looked at images of Newport in the 1960s. In the foreground (above) is Capital Cinema with its minaret towers and a small terrace of houses behind it. In the bottom left-hand corner there seems to be a ghostly juxtaposition between scaffolded platforms of emerging concrete structures and this older building. This collection of material prompted much discussion. We thought about the people who moved out of town, the imagery of shopping with trolley carts rather than hand-held bags, how land ownership changed, and whether people really grasped the significance of the changes happening around them. Above all we realised that a huge vision was being implemented; one which would change the lives of many thousands of people.
Taking the stories to the street
On Tuesday afternoon we left the building and took our ideas to the street. Matt wanted to find Union Street, which had been demolished to make way for the shopping centre. George and Ty wanted to do something performative. They dressed in hard hats and hi-vis; posing as figures of authority in search of the former public toilets on a street called Austin Friars.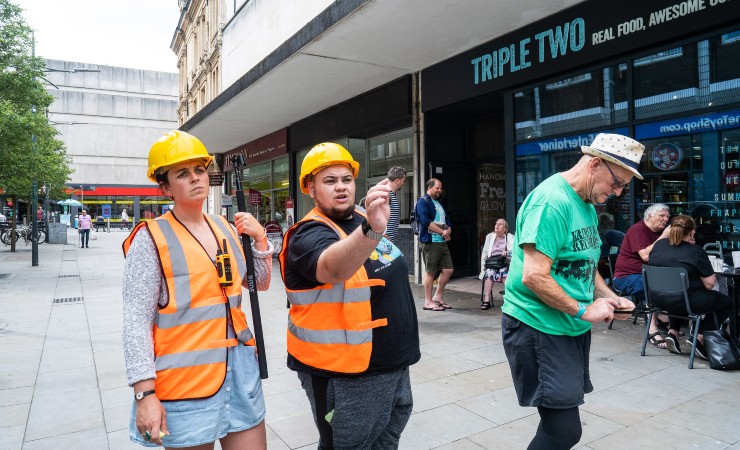 This little action brought people into the conservation. Of note, this led to me meeting two childhood friends relaxing outside over a cup of coffee. They told me about how these toilets used to be the best ones in Newport. I asked how Newport was back in the late 1960s when the new shopping centre emerged. One of them said that coffee used to be terrible back then! However, a topic of conversation which completely challenged my whole narrative then started. I was told by one of the women that she left Newport for Australia in 1967, aged 17, on a one-way ticket which cost £10. She enjoyed living there for some years as there were new opportunities for a good life which didn't exist in Wales. This latter conversation made me think more deeply about the story we were trying to tell. One member of our group, who had recently celebrated his 80th birthday, confirmed that many of his peers also left for Australia in 1960s. Beyond the detail, these conversations convinced me that the method of going outside, and being playful, prompts many new discussions.
Doing the social science and collecting data
With the help of Aled the filmmaker, we recorded short clips of being out to the street. We were careful to focus on performances by Matt and Bob as I would need to get consent for members of the public. At the end of Day Two we recorded one-to-one interviews between me and the team. The last of these interviews involved George asking me for my reflections. As a researcher it was good to be questioned; it helped me relax after a busy couple of days and was part of loosening control – which is a recurring theme from this whole experience. Moreover, having a perfect sound setup and faces captured from two different angles (which you can't do on your mobile phone) means that we can make some quality trailers for the event in September. Moreover, we have audio and visual data which can be used to evaluate the whole process.
What next?
We decided to reconvene in September for the public event. This gives us the chance to develop our ideas, get hold of some props, make short films to trailers for the event, and to get necessary permissions for people to be in certain locations. For example, the image below shows filmmaker Aled recording Matt on the top of a car park. This used to be Union Street, the site of houses demolished in the 1960s to make way for the shopping centre. We trust that taking the public to this location will help people realise just how significant an effort it was to build these new spaces. The car park also offers excellent views of all of Newport's concrete towers and roads.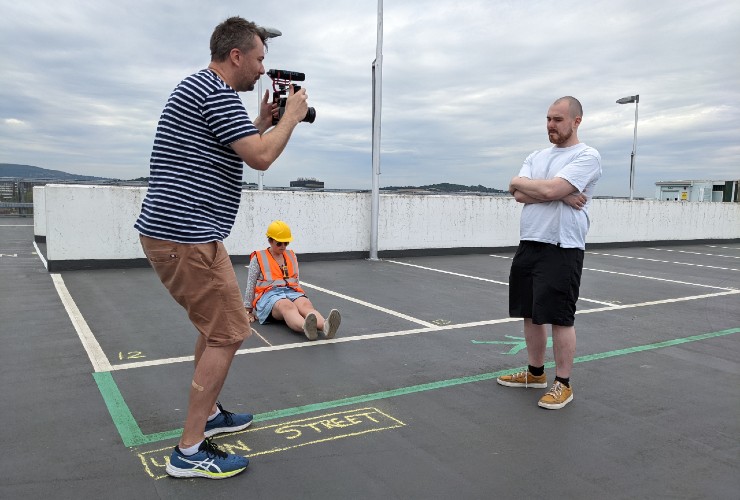 A final word…
Everybody who I have worked with so far has been brilliant and so interested in the subject. Thanks to the people who have shared their stories, to staff at Newport Reference Library, to Swansea University College of Science ethics committee, and everybody who has come together through Tin Shed Theatre. I am also grateful to the Economic and Social Research Council, through the Wales Doctoral Training Partnership, for financially supporting me to do this work. Having the money to commission a third party has been invaluable. I could never do this on my own.