Sociologist Alondra Nelson, deputy director of the White House Office of Science and Technology Policy and the most senior adviser on social science in the Biden administration, will resign her post effective February 10. Nelson's departure was first reported by the news site Axios on February 3, and is not yet detailed on the OSTP website.
However, Bruce Reed, deputy chief of staff for the Biden administration, told Axios that Nelson "has been a critical voice on equity, civil rights, and opportunity for all Americans. Her impact in this White House will far outlast her time in this building."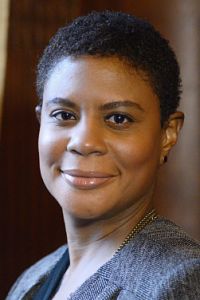 Nelson led OSTP on an interim basis from February to September 2022, and thus was the first woman of color to lead the advisory body to the executive branch of the U.S. government. She was succeeded by Arati Prabhakar, an engineer and the second woman of color in the role.
During her tenure, Nelson launched a new division at OSTP focused on the societal impacts of emerging technologies and diversity in science and tech. Most recently she spearheaded a deeper dive into issues surrounding artificial intelligence. That resulted in the just-released AI Risk Management Framework from OSTP and the National Institute of Standards and Technology, and the Blueprint for an AI Bill of Rights.
Her ascension to the top of OSTP made Nelson a high-profile member of the White House staff, especially when viewed by how OSTP itself was essentially relegated to the dustbin by the previous presidential administration. One feature article by Politico was titled, "Can Alondra Nelson Remake the Government's Approach to Science and Tech?"
Nelson is reportedly returning to the Institute for Advanced Study in Princeton, New Jersey, where she had been Harold F. Linder Professor. When she first joined OSTP in 2021, Nelson had also been president of the Social Science Research Council.
In addition to her policy work, she's spent decades unraveling the story of consumer genetic testing, detailed in two of her books (and a Social Science Bites podcast), Genetics and the Unsettled Past: The Collision of DNA, Race, and History and The Social Life of DNA: Race, Reparations, and Reconciliation after the Genome. She has also written Body and Soul: The Black Panther Party and the Fight against Medical Discrimination and Technicolor: Race, Technology, and Everyday Life.
No specific reason has been given for Nelson's exit from OSTP or its speed. One observer, former Science publisher Kent Anderson writing at The Geyser, points to the roll-out of an open access policy for government-funded research that arrived after Nelson's permanent replacement as OSTP chief was named but before Prabhakar took over. The memo outlining the policy shift was the subject of a bipartisan "expression of concern" letter from the House Committee on Science Space, and Technology. (A decidedly more partisan criticism of the AI Risk Management Plan from the same committee raises fewer eyebrows.)
Nelson, for her part, told Axios "we have landed some really big planes over these two years, and we're in really good shape. It's a good moment to step away with some work launched that's on the way to becoming implemented, and leave that work for others to do."