Part Two: Are You Ready?
As organizations struggle to keep up with rapid advances in technology and the global marketplace, change readiness–defined as "beliefs, attitudes, and intentions regarding the extent to which
changes are needed and the organization's capacity to successfully undertake those changes"–is ever more important for their survival.
Today we bring you three very comprehensive articles on this topic, offering practical implications for managers who want to increase individual, group, and organizational readiness to ensure successful change: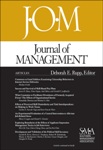 Alannah E. Rafferty of The University of New South Wales, Nerina L. Jimmieson of The University of Queensland, and Achilles A. Armenakis of Auburn University published "Change Readiness: A Multilevel Review" in the Journal of Management January 2013 issue. From the abstract:
The authors conducted a theoretical review of the change readiness literature and identified two major limitations with this work. First, while there is substantial agreement about the key cognitions that underlie change readiness, researchers have not examined the affective element of this attitude. Second, researchers have not adopted a multilevel perspective when considering change readiness.
Shaul Oreg of the University of Haifa, Maria Vakola of the University of Economics and Business, Athens, and Achilles Armenakis of Auburn University published "Change Recipients' Reactions to Organizational Change: A 60-Year Review of Quantitative Studies" in the Journal of Applied Behavioral Science December 2011 issue. From the abstract:
Individual readiness for organizational change reflects the concept of unfreezing proposed by Lewin (1947/1997b) and is critical to successful change implementation. Understanding the conditions conducive to individual readiness for organizational change, instead of the more traditional focus on resistance to change, can be useful for designing and implementing effective human resource and organization development (HROD) interventions.
Myungweon Choi and Wendy E. A. Ruona, both of the University of Georgia, published "Individual Readiness for Organizational Change and Its Implications for Human Resource and Organization Development" in the Human Resource Development Review March 2011 issue. From the abstract:
A review of literature on change strategies and a learning culture suggests that individuals are more likely to have higher levels of readiness for organizational change when (a) they experience normative-reeducative change strategies and when (b) they perceive their work environment to have the characteristics associated with a learning culture.