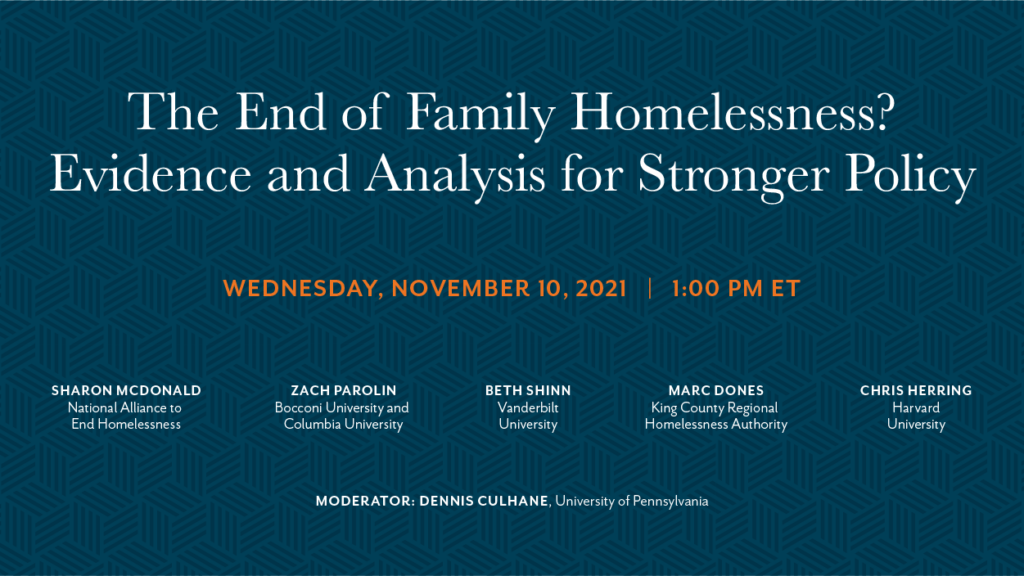 More than 500,000 Americans are experiencing homelessness and among that population, 2020 was the first year there were more unsheltered homeless individuals than those who were sheltered. What can cities across the country do to address the worsening homelessness crisis?

Following on the heels of the January 2021 volume of The ANNALS of the American Academy of Political and Social Science looking at the dynamics of homelessness and the policy implications that suggests, join the AAPSS for a November 10 webinar focusing on the latest data and research.  
"The End of Family Homelessness: Evidence and Analysis for Stronger Policy" will see a panel of experts examining possible solutions to this crisis, especially around unsheltered individuals and families, and what opportunities for real change are available at the local, state and federal levels.
The webinar takes place on Wednesday, November 10 at 1 pm ET.
Dennis Culhane, the Dana and Andrew Stone Chair in Social Policy and co-principal Investigator for Actionable Intelligence for Social Policy at the University of Pennsylvania, will moderate the panel discussion. Culhane also serves as director of research for the National Center for Homelessness Among Veterans at the U.S. Department of Veterans Affairs.
Panelists are:
Marc Dones, chief executive officer, King County (Washington) Regional Homelessness Authority
Chris Herring, postdoctoral fellow, Harvard University, and assistant professor of sociology, University of California Los Angeles
Sharon McDonald, senior fellow for families and children, National Alliance to End Homelessness
Zach Parolin, assistant professor, Bocconi University, and senior fellow, Center on Poverty & Social Policy, Columbia University
Marybeth Shinn, Cornelius Vanderbilt Chair and Professor, Vanderbilt University 
To learn more and to register for the webinar, please visit bit.ly/AAPSSendhomelessness.