Sharon Oster, "a pioneer in the field of organizational strategy" and the first woman to be named dean and tenured professor at Yale University's School of Management, died of lung cancer on June 10 in New Haven, Connecticut. She was 73.
Oster's research often focused on demonstrating how inequality plays out in economic terms, while her career often focused on addressing such inequality for herself and for others in her wake. Her papers such as "Industry Differences in the Level of Discrimination Against Women," "A Note on the Determinant of Alimony," "Are Black Incomes More Unequally Distributed?" and a 1987 paper she co-authored with Paul Milgrom, "Job Discrimination, Market Forces, and the Invisibility Crisis," staked out important questions for many demographics often marginalized in economic research and discussion.
Answers to such questions applied to Oster herself, who set a number of firsts in her more than four decades at Yale, such as being the first female tenured professor in the School of Management in 1993, then becoming its first dean in 2008.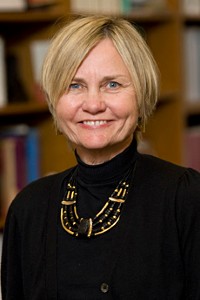 "I have found that a thick skin and a sense of humor have served me very well over the years, especially in situations in which I was one of very few women," Oster explained to Jody Sindelar of the Yale School of Public Health in an interview conducted after Oster received the 2011 Carolyn Shaw Bell Award from the American Economic Association. "One can use up a lot of valuable energy reacting to slights which might well be inadvertent. Better to apply that energy to more productive uses."
Sharon Monica Oster was born September 3, 1948, in Bethpage, New York, where she grew up. Oster attended Hofstra University and received a bachelor's in economics in 1970. "I began studying economics in the last 1960s and was initially attracted by the potential that I saw in economics as a way to help address some of the problems of society," Oster told Sindelar. "As I studied more, I became equally interested in the power of the analytics in our discipline."
She earned a doctorate in economics from Harvard in 1974, but "our discipline" was still pretty much a "male discipline" at the time. "I entered the PhD program at Harvard in 1970," she told Sindelar. "I was one of two women in that class of about 45 men. I don't believe there were any senior women on the faculty. By the time my daughter, Emily, entered that same program in 2002, Harvard's class was at least one-third women, and there were several tenured women faculty."
As she began looking to break the glass ceiling upon graduating Harvard, she was encouraged to submit her paper on industry differences to The Quarterly Journal of Economics. "It never would have occurred to me to submit it myself," she told Lisa Qian last year. "But sure enough, after a revision or two, the paper made it in." And having published in a top journal helped her land a job at Yale.
Oster joined Yale as an assistant professor in 1974, becoming a full professor in what was then called the  School of Organization and Management in 1982. In 1992 Oster was named the Frederic D. Wolfe Professor of Management and Entrepreneurship. She served as the School of Management dean from 2008 to 2011; in her first year as dean, during the then-recession, Oster pledged $100,000 of her salary toward student internships.
She retired in 2018. That same year an endowed chair in economics—the Sharon Oster Professorship—was created by staff and alumni.
Throughout her career, Oster worked to make her insights into economics and organizations widely understood; her longtime friend Barry Nalebuff described her as "an unparalleled textbook author." "Befuddling someone is not convincing them," an obituary in The New York Times quoted her. "That's an important lesson of good management. In life, sometimes you can get someplace by befuddling people, but it's not a good long-run strategy."
Her 1990 textbook, Strategic Management for Nonprofit Organizations: Theory and Cases, influenced the public to think about how nonprofits are able to flourish within the increasingly competitive markets. The Academy of Management termed it "a landmark work."
Other important textbooks she authored were 1990's Modern Competitive Analysis, and 2011's Principles of Economics, written alongside Karl E. Case and Oster's husband, economist Ray C. Fair.
Oster also made her mark in the classroom; Nalebuff described her as "passionate about the school and teaching." "Many, many generations of Yale students, especially the women who have had the opportunity to learn from her, are the beneficiaries of Sharon's exceptional teaching." One of her former students, Sandra Urie, wrote in nominating Oster for the Carolyn Shaw Bell Award in 2011. (Her colleagues also saw themselves as beneficiaries. Nalebuff deemed Oster "the Mick Jagger of academics, infinitely cool and ageless, and yet willing to hang out with nerds. She made us feel cool.")
She received Yale's Award for Excellence in Teaching in both 1988 and 2008 and the 2018 Irwin Outstanding Educator Award for Excellence in MBA/Executive Education from the Academy of Management.
Oster is survived by her husband, their three children – Stephen Fair, John Oster, and Emily Oster – her brother Ron Oster, and eight grandchildren.