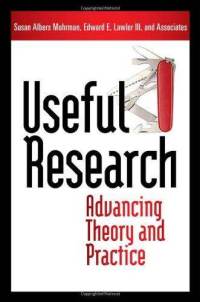 Susan Albers Mohrman, Edward E. Lawler, III, and Associates: Useful Research: Advancing Theory and Practice. San Francisco: Berrett-Koehler, 2011. 456 pp. $49.95, hardcover.
David A. Whetten of Brigham Young University and Zachariah J. Rodgers of Stanford University published a book review of "Useful Research: Advancing Theory and Practice" in the latest issue of Administrative Science Quarterly:
Theory is useful because it is applicable beyond a particular case, while practice is a particular case. This apparent incompatibility is resolved when theory properly specifies key contextual components necessary to qualify applicability, and appropriate theories are applied to understanding particular cases. Conversely, theories can ''learn'' through feedback from particular cases. Mohrman and Lawler's 25-year sequel compilation, Useful Research, champions and demonstrates practical organizational studies research through rich examples of collaborations between researchers and practitioners, career narratives, tangible approaches, and environmental evaluations, nestled among cogent commentaries and frameworks.
Click here to read the review, and follow this link for free access to two years' worth of book reviews from Administrative Science Quarterly.