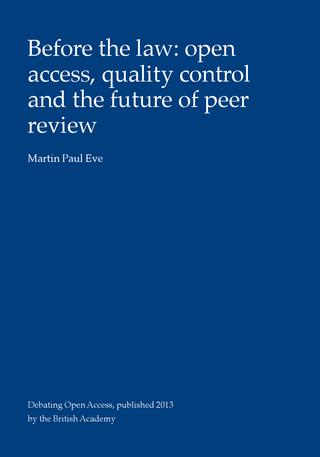 Open Access (OA) is not about abandoning peer review but it does provide the opportunity to rethink its role and our methods, according to Martin Paul Eve, writing in Debating Open Access, a new publication from the British Academy. 67% of existing OA journals do not charge APCs and yet academics have tended to steer clear of them. People opt for recognised outlets because of the (erroneously) perceived emphasis on publication venue by accreditation structures such as RAE/REF/tenure.
In the print world peer review was historically linked to page limits; these do not apply in the electronic realm. Double blind review is a misnomer and even then preserved anonymity can be problematic. The alternative is to publish everything that meets a certain threshold of academic soundness and to let readers decide what should last; in effect a kind of post-publication, or peer-to-peer review.
This modification of peer review could lead to more collaboration and less insistence on an individual finished product.
Dr Martin Paul Eve is a lecturer in English literature at the University of Lincoln with a research specialism in late-twentieth- and twenty-first-century American fiction. Martin has also spoken and written widely on issues surrounding open access for Insights journal, The Guardian, the LSE Impact Blog, a forthcoming book chapter with Intellect Press and many others, as well as being called to make an appearance before the 2013 House of Commons Business, Innovation and Skills Select Committee inquiry into Open Access. In addition to his literary research work and teaching, Martin is a Microsoft Certified Professional in C# and the .NET Framework, edits two peer reviewed open access journals and founded the Open Library of the Humanities, a practical intervention to introduce prestigious APC free open access publishing across the Humanities.
Read more about Debating Open Access, a collection of a series of 8 reflecting on the challenges and opportunities for humanities and social sciences open access publishing practices.