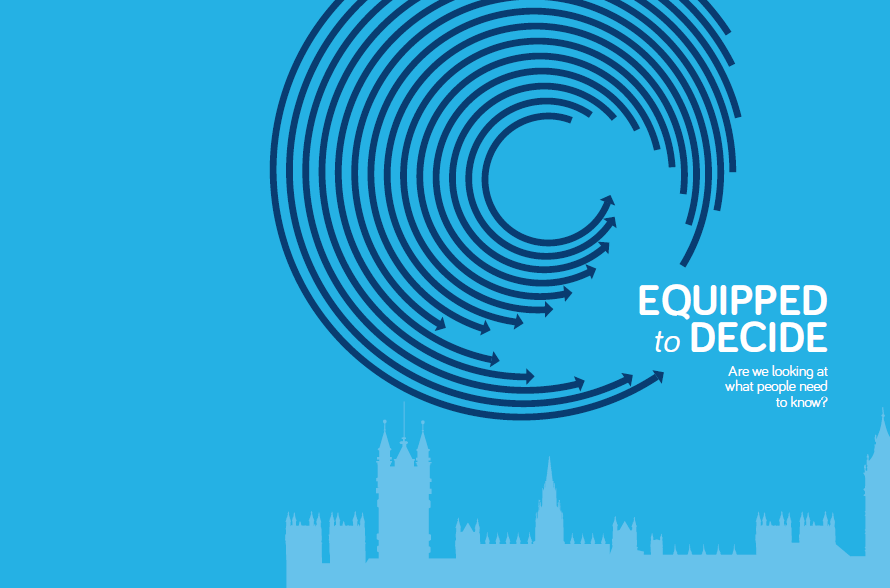 Bookshelf
---
"From football fans seeking the return of standing space at matches to Somerset beekeepers monitoring invasive hornets, people in different walks of life use evidence, independent analysis and statistics to make decisions." So starts a new report, Equipped to Decide, which forcefully states the themes driving Evidence Week 2018. "Contrary to the narrative of a post-truth world, they have many questions about what is true and what is a reliable source of information. … The question we must therefore ask is: are we all really working to the best available picture of what is going on in the world?"
That question animated Evidence Week, a first-of-its-kind event held in the UK Parliament in June. The week — an initiative of Sense about Science with the House of Commons Science and Technology Committee, the House of Commons Library and the Parliamentary Office for Science and Technology — looked at how research evidence supports effective scrutiny and reasoned decisions. The week was held in partnership with SAGE Publishing, which also published the new report and is the parent of Social Science Space.
The team behind the discussion and the report included Tracey Brown OBE, the head of Sense About Science; Queen's University Belfast's Ciara Keenan, a specialist in systematic review and meta-analysis; Megan Lucero, who runs the Bureau Local at the Bureau of Investigative Journalism; Jonathan Montgomery, chair of the Heath Research Authority; Alison Park, head of Cohort and Longitudinal Studies Enhancement Resources; John Pullinger, UK national statistician and chief executive of the UK Statistics Authority; Rachel Tuffin, director of knowledge, research and education and What Works Centre lead at the College of Policing; and Penny Young, the House of Commons Librarian.
While the report packs a lot into 11 pages, it summarizes the material thusly:
The scope for better information gathering about the case loads of members of Parliament to reduce significant information blind spots in the public sector.
Use of administrative records from both the public and private sectors, and how to build public support for that.
Drawing existing evidence together to answer questions that cut across separations such as policing and homelessness.
The development of longitudinal studies to explore emerging patterns of life.
Expanding interest in new data sources to the skills needed to collect and analyse information, and also to understand and challenge it.
Better use of artificial intelligence on the data we have, rather than simply using it to generate more.
One of the key takeaways from the report is less the lack of data to make decisions – although that is an issue, particularly at the local level – than the ability to make use of the data that already is being generated. "It's still incredibly hard to access administrative records about people and link them to survey data," said Park. As the report stresses:
At present administrative data is rarely collated or analysed, or is even in the right chunks to do so. The way that it is accumulated and stored is based largely on what makes administrative sense rather than on what is useful for research. It isn't designed to answer questions that in our society we are likely to have.
While there is a common refrain of "What do you do when there's no evidence?" the report says, "[O]ften that's not the case, and more research is commissioned on something already known, or on a genuinely new problem where existing research could still help.
Furthermore, both the evidence and the analysis needs to be applicable to real problems. The report offers an anecdote of a rheumatism study where the measures to show improvement in a patient's life in fact meant nothing to the patient. "Connecting the things that people are bothered about with the data is a much more helpful service than producing reams more data," according to the report. Or as Young offered as a practical solution, "I would love to see a subject-based portal that's constantly aggregating both what the public is concerned about and how that relates to other research."
---