---
The social and sciences have always come with their fair share of jargon. Territoriality. Kinesics. Affective events theory. Pygmalion effect. Dystopia. Cacotopia. Those last two even mean the same thing. Sometimes it seems like doing social science means learning another language.

As the world's largest independent social science publisher, we love busting jargon at SAGE. Our Glossary of the Social and Behavioral Sciences and the Social Science Jargon Buster are two of our most used books. We think it's important to keep track of the words that people are using to describe social phenomena so that we're all talking the same language.
That's why we're releasing everything that we've learned about social science terminology as the first instalment in our new Terminology Service. Go to https://concepts.sagepub.com and click around to discover information on over 61,000 concepts in the social and behavioral sciences, such as definitions of key terms and how they relate to other concepts. You can search for a specific concept, or try clicking the 'Hierarchy' tab and browse through the social sciences from the top down.
This tool is based on our Social Science Thesaurus, which we have been using to tag content on SAGE Knowledge and SAGE Research Methods with keywords. Most of the concepts, relationships and definitions in the thesaurus have been mined from our published content, with minimum manual intervention. In other words, we've taken concepts and relationships that are implicit in our content and made them explicit so that they can be structured and re-purposed.
Here are some things you can do with the SAGE Terminology Service: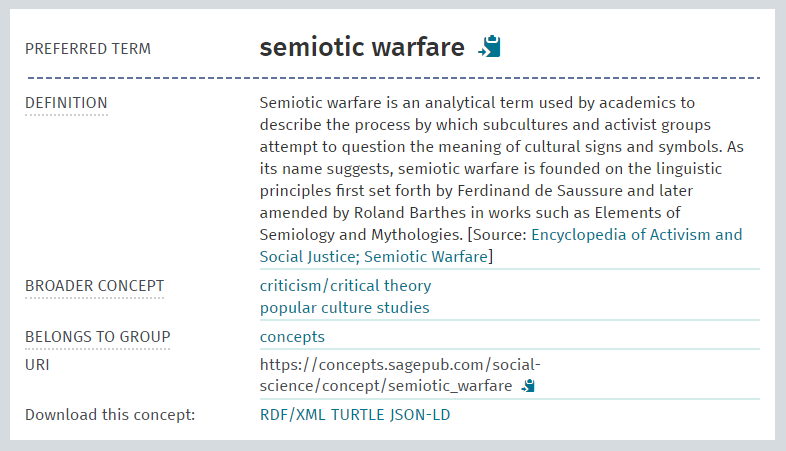 The API and data downloads that are available make this service not just a way of browsing around the social sciences, but also a fully-fledged linked data platform. The API is available to anyone who wants to build a service on top of our vocabularies for educational or academic purposes. You can create cool visualisations using the chronological data, show related terms to improve discovery, or develop something like our 'Ask SAGE' Alexa skill that defines key terms in social research.
Have any other ideas for how you or we could use this tool? Let us know by using the feedback tool on the site or in the comments below!
---