Each year the American Library Association's Association of College and Research Libraries awards an exceptional academic or law librarian "who, through research, service to the profession, or other creative activity, makes distinguished contributions to bibliography and information service." This year, after a COVID-enforced one-year gap, the Politics, Policy and International Relations Section Marta Lange/SAGE-CQ Press Award goes to Jill Severn, archivist and head of access and outreach for the University of Georgia's Richard B. Russell Library for Political Research and Studies and director of the Russell Forum for Civic Life in Georgia. (SAGE is the parent of Social Science Space.)
The award committee selected Severn based on her work creating the Special Collections Faculty Fellowship Program at the Russell Library, which the committee sees as "a wonderful model for how archival collections can be introduced into political science education." John A. Maltese, the associate dean and Says Professor of the School of Public and International Affairs at the University of Georgia nominated Severn and her nomination packet included feedback from students sharing the benefits on Severn's instruction on how archival collections helped the students understand the historical context of events and how they can connect it back to everyday life.
This award, which comes with a $1,000 prize, is named for Marta Lange, the American Library Association's 1990-91 Law and Political Science Section Chair, whose collegial spirit and leadership talents were cut short in a fatal automobile accident in 1992. Debuting in 1996, the Marta Lange Award looks for contributions such as innovation in teaching and learning, scholarship and research, service to the profession, mentorship, civic engagement, and lifetime achievement.
Social Science Space asked Severn about her role as an archivist and political science librarian, along with her view of the fellowship program and the Russell Library itself.
Could you detail your own journey to becoming an academic librarian and archivist? What lead to the focus on political science, or alternatively, to the Russell?
I originally intended to pursue a career as an academic historian and to that end studied history as an undergraduate at Month Holyoke College and as a graduate student at the University of Georgia. During my time at the University of Georgia I worked as a graduate student assistant in the Richard B. Russell Library for Political Research and Studies, one of the most important archives of political collections in the U.S. I assisted preservation and processing collections and researched and designed several exhibits.
This experience convinced me that I wanted to work in a museum or archives after grad school. After completing my master's in history, I sought additional training in museum studies at the University of South Carolina and eventually accepted a curatorial position at the McKissick Museum on that campus. A couple year's later my partner took a position at the University of Georgia and we made the decision to move back to Athens. When a professional archival position opened up at the Russell Library, I jumped at the chance to apply and began working there in 1997. In the 24 years I've worked with the Russell Library, my job has evolved from processing collections to managing the Access and Outreach Unit of the department and leading the Special Collections Faculty Teaching Fellows Program.
I ask about your journey because as a director of outreach, I assume you spend a lot of time encouraging asking others to, in essence, follow some of your own steps. Perhaps you could detail what your job entails?
As the head of Access and Outreach I have always been involved in encouraging the use of the Russell Library's amazing political collections—we have about 500 collections of individuals and organizations involved in all aspects of modern Georgia politics and policymaking on the local, state, and national levels—by campus and community audiences. My team engages these audiences through exhibits we research and develop for our gallery spaces and through public programming we offer online and in-person throughout the year. Although I am involved in the big picture of our exhibits and programs, since 2012 when we moved into a purpose-built facility for the three special collections departments at UGA, almost all of my time is devoted to instruction for UGA students. Working with faculty across campus I develop projects, lectures, demonstrations, and assignments that use archives-centered approaches to help students to learn, make new knowledge, and be successful.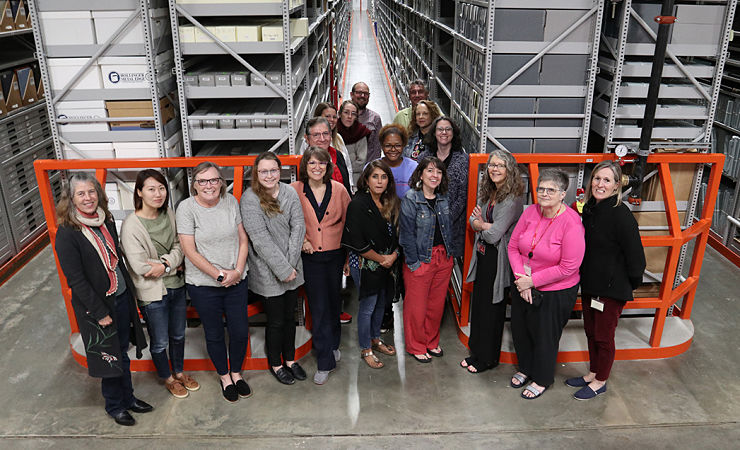 The judges deciding on the Marta Lange Award specifically called out your work on the Russell's Special Collections Faculty Fellowship Program. Could you walk us through what the fellowship offers an academic? Were its origins more in getting faculty something they needed but weren't getting, or in drawing attention to a tool that was lying unused, or perhaps something between those two?
To meet the growing demand for archives-centered learning by university teaching faculty, I helped to establish the Special Collections Faculty Teaching Fellows Program in 2015. Although many faculty have experience doing their own research in archives and special collections, few have experience with teaching their students how to do this work effectively and to leverage these skills to enhance their learning experience. Based on the acclaimed TeachArchives.org resource developed by the Brooklyn Historical Society, the program provides training and resources for 12 faculty to learn how to teach using archives-centered approaches and using the collections of the UGA Special Collections Libraries. Those faculty selected for the program participate in intensive workshop sessions where they build and refine their skills as archival researchers and learn techniques for teaching students to read closely, analyze critically, observe and summarize information that is new both in format and content. During the workshops they redesign an existing course or create a new one that applies these archives-centered approaches. Each faculty participant receives $2,000 to enhance or develop their course.
To date, we have trained 69 faculty from more than 20 departments on campus. In 2020 the Georgia Historical Records Advisory Council recognized the Fellows Program with an award for excellence in the educational use of historical records.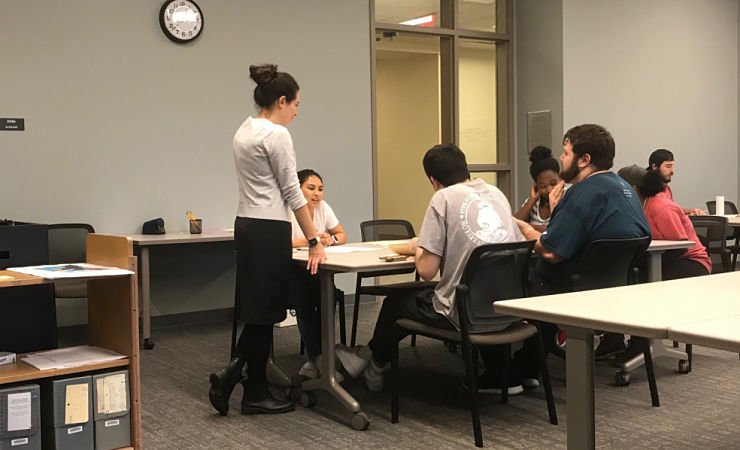 Is this a model other archivists could be adopting at their institutions or collections? How tied is it to political science specifically?
Absolutely, in fact there are many institutions who have contacted me for advice and direction in building their own home-grown version of our program. The Fellows Program is not specifically tied to political science, but really adaptable to almost any discipline. This year our cohort featured faculty from Finance and Animal Dairy Science and last year we worked with an epidemiologist from the University's Vet School. To learn more about the Russell Library's collaboration on all levels with the University of Georgia's School of Public and International Affairs, please check out my article in the Spring 2021 Newsletter of the Policy, Politics, & International Relations Section Association of College & Research Libraries, a division of the American Library Association
Please tell me a little about the Russell Library itself, both its mission and it collection? I'd love to know, by the way, how collecting modern congressional material differs from say the purely paper-based collection we might have expected a century ago.
Having worked for the Russell Library for almost 25 years, I've had the opportunity to watch it grow and change. Today, our collections reflect a much broader and more inclusive understanding of politics than when the library opened back in 1974 with just Senator Richard Russell's papers. To us, politics and policymaking means more than elected officials, political parties, speeches, and drafts of legislation. We collect materials from grassroots activists and activist organizations, we collect papers of civic and lobbying organizations, we collect legal and judicial papers, and we collect papers from media and journalism who focus on politics and policy. We've always collected broadly by format—documents, photographs, audiovisual materials, electronic records, and artifacts—but the balance of these formats has changed significantly in the last 15-20 years. We receive a much greater number of born-digital materials in all our collections and especially in the congressional collections we receive. We also have made a concerted effort to develop an oral history program that works in partnership with under-represented groups in our collections to expand their voices in what we collect. Finally, we have also improved intellectual access to material culture in our collections by including detailed information about artifacts in our collections finding aids, which makes them more visible to students and researchers. To be sure I don't forget the important stuff, I'm sharing our official Russell Library description…
"The Richard B. Russell Library for Political Research and Studies was established in 1974 by the Richard B. Russell Foundation, Inc., Georgia General Assembly, and Board of Regents of the University System of Georgia. The Library's original mission was to collect and preserve materials documenting the life and career of Richard B. Russell, Jr., United States Senator from Georgia from 1933 to 1971. The Library's holdings have since expanded to include approximately 500 manuscript collections and more than 1,000 oral history interviews documenting modern (1900-present) politics and public policy in Georgia and an array of issues related to the American political system. The Russell Library enjoys a national reputation as one of the largest and foremost repositories for modern congressional papers. In 2014, the Russell Library received a Governor's Award for the Arts and Humanities.

The Russell Library values the enduring tradition of the political stump. This icon of American representative democracy, which graces the Russell exhibit gallery's foyer floor, is a reminder of the dynamic relationship between politics, public policy, and the people. Using this framework of perspectives and experiences, the Russell Library invites researchers of all experience levels and areas of interest as well as visitors from around the world to explore the diversity of people, events, and ideas shaping Georgia's political landscape.

To advance the University of Georgia's research and teaching missions, the Russell Library offers robust instruction guided by archives-centered pedagogy. The Russell Library is also dedicated to developing and presenting public programming and educational materials that facilitate research, raise public awareness of the Library and its collections and services, and provide learning opportunities for the communities it serves.

To achieve and advance its mission, the Russell Library pursues opportunities for collaboration with numerous individuals and organizations. Current partners include the Foot Soldier Project for Civil Rights Studies, Georgia Disability History Alliance, Georgia Association of Latino Elected Officials (GALEO), and the GALEO Latino Community Development Fund. The Russell Library is a founding member of the Association of Centers for the Study of Congress."