The end of calendar year 2021 is seeing the departure of a number of the top figures at the intersection of policy and social science in Washington, D.C. At the National Science Foundation, three top people in the Directorate for Social, Behavioral, and Economic Sciences are leaving, including the head of the directorate, Arthur "Skip" Lupia. At the National Research Council, Mary Ellen O'Connell, the head of the Division of Behavioral and Social Sciences and Education, will retire in January. And in late September, William T. Riley, the director of the Office of Behavioral and Social Science Research at the National Institutes of Health, announced he would retire at the end of December.
Riley over the last seven years has been associate director of behavioral and social sciences research, or BSSR, at NIH and head of the office overseeing BSSR. As reported on his NIH biography, he has contributed to several trans-NIH initiatives including serving as chief science officer for the Patient-Reported Outcomes Measurement Information System and as NIH interim deputy director of the Precision Medicine Initiative (now called the All of Us Research Program).
Before that, he had been chief of the Science of Research and Technology Branch, Behavioral Research Program, Division of Cancer Control and Population Sciences at the National Cancer Institute. He also served at the National Institute of Mental Health and the National Heart, Lung, and Blood Institute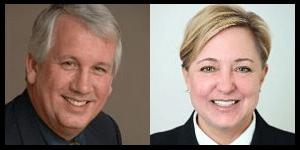 Riley received his undergraduate degree in Psychology and Sociology from James Madison University, and his M.S. and Ph.D. in Clinical Psychology from Florida State University. He interned in Medical Psychology at Baylor College of Medicine. He has served on the faculty of the Medical College of Georgia and Virginia Commonwealth University. After 15 years in academic medical schools, he became director of research at PICS, Inc., a health behavior research and development firm. He holds an appointment as Professorial Lecturer in the School of Public Health at The George Washington University.
In announcing Riley's retirement publicly, James M. Anderson, NIH's deputy director for program coordination, planning, and strategic initiatives noted that Riley's tenure occurred as BSSR was being fully integrated with the neuroscience, genetics, and "omics" fields, "shed[ding] light on the many complex interactions between the brain, behavior, and the environment." Riley, he said, "has done an outstanding job advancing understanding of the field and integrating BSSR into broader biomedical research efforts."
The Office of BSSR deputy director, Christine M. Hunter, will serve in an acting capacity for Riley's two roles as a nationwide search for a permanent replacement takes place. Hunter is a captain in the U.S. Public Health Service, and has previously served as the Director of Behavioral Research focused on obesity and diabetes prevention and treatment at NIH's National Institute of Diabetes and Digestive and Kidney Diseases. She earned a Ph.D. in clinical psychology from the University of Memphis and completed her psychology internship at Wilford Hall Medical Center. Hunter completed a postdoctoral fellowship in clinical health psychology and attained board certification in clinical health psychology by the American Board of Professional Psychology.