The annual American Academy of Political and Social Science's Moynihan Prize was created to recognize social scientists, public officials, and civic leaders who champion the use of informed judgment to advance the public good.
Currently, the academy, known as AAPSS, is seeking nominations for its 2023 award. This year's award has gone to children's activist Marian Wright Edelman, who will deliver the annual Moynihan Lecture when she officially receives the prize next month.
Nominations for the 2023 prize will be accepted through October 26; the nomination form can be found here. Candidates, according to AAPSS, should have made substantial contributions to public policy, such as in the alleviation of poverty, the health of populations, the design of the built environment and public works, the improvement of race and ethnic relations, the pursuit of effective international relations and the conservation of natural resources. They may also include those whose careers have exhibited a dedication to strengthening the use of statistical evidence and quality data in the policy process.
As AAPSS Executive Director Tom Kecskemethy explained to Social Science Space in 2020, "There is a clear intent to recognize what some might call the 'value proposition' of Pat Moynihan's professional life: that civil service is best-done when policymakers pay attention to social research and to evidence; and that social research stands to benefit when it pays attention the most important questions facing policymakers.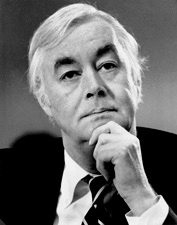 "[The late] Senator Moynihan," Kecskemethy continued, "was a remarkable figure – at various times in his career, he was a public servant who worked for both Republican and Democrat presidents, a university professor, an ambassador, and finally an elected official. He was a significant presence both in public life and in scholarship (his good friend George F. Will famously quipped that Moynihan 'wrote more books than most senators have read'), and in him, we saw this extraordinary intellectual curiosity and nimble intelligence combined with the ability to gainfully apply the life of the mind to public service. He walked in the worlds research and policy as if there was little barrier between ' – that's an exceedingly rare quality, and with a prize named for him, we aim to recognize people who carry on that model in some respect."
The American Academy of Political and Social Science created the Moyhihan Prize in 2007. Previous recipients include John Holdren, former director of the White House Office of Science and Technology Policy; economist and Nobel laureate Joseph Stiglitz; sociologist and Harvard professor William Julius Wilson; Samantha Power, former U.S. Ambassador to the United Nations; and climate economist and Nobel laureate William Nordhaus. A full list of prize recipients can be found on the AAPSS website.
Candidates must be willing to accept the award in person at the annual awards ceremony and must be willing to deliver a major public policy address, the Moynihan Lecture. The winner also receives a prize of $20,000.