Four scholars working in the social and behavioral sciences were among the 25 luminaries named fellows of the MacArthur Foundation earlier this week.
A MacArthur Fellowship, colloquially known as the 'Genius Grant,' includes an $800,000, no-strings-attached award considered an investment in the individual winner's potential. As the MacArthur Foundation website explains, fellows are selected based on exceptional creativity, the promise for important future advances based on a track record of significant accomplishments, and potential for the fellowship to facilitate subsequent creative work.
Two sociologists, Jennifer Carlson and Reuben Jonathan Miller, are among the 2022 cohort. Joining them are historical demographer Steven Ruggles and computer scientist Yejin Choi. Below are short biographies of the four drawn from their MacArthur-penned biographies.
Jennifer Carlson | Associate professor in the School of Sociology and the School of Government and Public Policy | University of Arizona
Carlson is a sociologist reconfiguring our understanding of gun culture in the United States. Through ethnographic research with gun owners, educators, and sellers; law enforcement; and state licensing bodies, Carlson investigates the motivations and assumptions that drive gun culture. Her first book 2015's Citizen-Protectors: The Everyday Politics of Guns in an Age of Decline, examines why individuals choose to own and carry firearms. Her next book, 2020's Policing the Second Amendment: Guns, Law Enforcement, and the Politics of Race, reframes the debate about gun regulation within racialized constructions of violence, both legitimate and criminal, and built around two mentalities associated with policing and gun carrying: gun militarism and gun populism. Carlson's forthcoming book, Merchants of the Right: Gun Sellers and the Crisis of American Democracy, will focuses on the dramatic increase in gun sales in 2020 against the backdrop of pandemic insecurities, police violence, and political polarization.
Carlson is co-editor of Gun Studies: Interdisciplinary Approaches to Politics, Policy and Practice (2018) and The Social Life of Gender (2018), and her articles have appeared in such academic journals as the American Journal of Sociology, Social Problems, and Gender and Society, among other publications (including a piece co-authored with Rina James appearing on Social Science Space in June).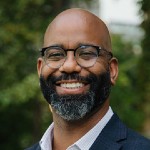 Reuben Jonathan Miller | Faculty of the Crown Family School of Social Work, Policy, and Practice | University of Chicago
Miller is a sociologist, criminologist, and social worker examining the long-term consequences of incarceration on the lives of individuals and their families, with a focus on communities of color and those living in poverty. His early ethnographic research studies the shift in criminal justice policy away from prison-based rehabilitation programs focused on vocational training and employment, and how formerly incarcerated people are forced into a diminished form of "carceral citizenship" explored in his 2021 book. Halfway Home: Race, Punishment, and the Afterlife of Mass Incarceration. In addition to historical and theoretical research and 15 years of ethnographic fieldwork in Chicago, Detroit, and other cities, Miller draws on his time as a volunteer chaplain at Chicago's Cook County Jail and his experiences with the carceral entanglements of his brother and father.
His next project will investigate the "moral worlds" of people who society deems violent. He is currently conducting hundreds of interviews with individuals convicted of violent crimes or identified as at risk of violent behavior.
Miller is also a research professor at the American Bar Foundation. Articles by Miller have appeared in such publications as Theoretical Criminology, Punishment & Society, and Social Service Review, among other publications.
Steven Ruggles | Distinguished McKnight University Professor and Regents Professor of History and Population Studies | University of Minnesota
Steven Ruggles is a historical demographer building the most extensive database of population statistics in the world. The challenges Ruggles encountered in his research on changing family structures led him to create the Integrated Public Use Microdata Series (IPUMS) in 1993. At IPUMS, Ruggles leads the collection, harmonization, and dissemination of a wealth of demographic data useful for studies of social change. The highly versatile research infrastructure of IPUMS has set new standards for quantitative research in history and the social sciences. Scholars have used IPUMS data sets to explore the population dynamics contributing to COVID-19 vulnerability, how residential segregation interacts with employment, and the relationship between climate events and migration, among countless other topics.
Ruggles's scholarship on changes in family composition and living arrangements in the United States has analyzed the decline of multigenerational households and the rise of single parenthood and divorce..
He is also the director of the University of Minnesota's Institute for Social Research and Data Innovation and the author of 1987's Prolonged Connections: The Rise of the Extended Family in Nineteenth-Century England and America. His numerous articles have been published in such journals as American Historical Review, Journal of American History, American Sociological Review, Annual Review of Sociology, and Demography, among other publications.
Yejin Choi | Brett Helsel Professor in the Paul G. Allen School of Computer Science & Engineering | University of Washington
Yejin Choi is a computer scientist leveraging her expertise in natural language processing (NLP) to develop artificial intelligence-based systems that can perform commonsense reasoning. The ability to reason, or make inferences, is beyond the reach of existing AI systems because it requires implicit knowledge about how the world works. Choi recognized that rules-based models, such as logic or conditional probabilities, are too rigid to encompass the complexity of commonsense knowledge and thinking. Instead, she uses computational methods for understanding language, or NLP, to develop commonsense knowledge and reasoning models.
Choi has made advancements in several areas of NLP that improve computers' ability to extract and understand implied meaning in human language. She has pioneered the combining of visual and textual inputs to improve context-based language interpretation in automatic systems.
More recently, Choi has created new datasets of commonsense knowledge such as ATOMIC, a commonsense knowledge graph that encodes causal commonsense inferences about everyday objects and events, and VisualComet, the first large-scale repository of visual commonsense graphs. She and colleagues also released COMET, a neural network-based NLP system that uses the ATOMIC knowledge graph.
She has published in a variety of leading journals and conference proceedings, including Conference on Empirical Methods in Natural Language Processing, Advances in Neural Information Processing Systems, Proceedings of the AAAI Conference on Artificial Intelligence, and IEEE/CVF Conference on Computer Vision and Pattern Recognition.