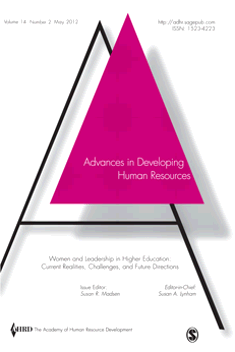 When we look at women in leadership, we often see a set of steps that must be followed in life and particular traits that lead to success. In reality, their paths are not so predictable.
In a new study, women talk about this ambiguity and reveal "the process of creating, shaping, and inventing their careers and themselves as leaders." Robbie P. Hertneky of Antioch University published "Composing Our Lives—As Women and As Leaders" in the May 2012 issue of Advances in Developing Human Resources. To view other articles in this issue, please click here.
Professor Hertneky explains in the abstract:
The Problem.
Career paths have traditionally been seen as linear progressions, discrete steps along a well-traveled avenue, and leadership development articulated as a list of winning skills and behaviors. Alternate models are needed, in particular those relevant to the career and leadership development of women.

The Solution.
This article looks at women's career paths and development as leaders through the lens of Bateson's (1989) concept of composing a life. Drawing on the findings of research on the leadership self-identity of women college presidents, a new perspective of composing a career and a leadership identity is offered.

The Stakeholders.
With implications for career planning and leadership education, this research may be useful for human resource development (HRD) professionals, leadership development and career consultants, and educators—faculty, student advisors, and administrators. It may also be informative, supportive, and inspiring to women in higher education, wherever they stand in their careers.
To learn more about Advances in Developing Human Resources, please follow this link.
Are you interested in receiving email alerts whenever a new article or issue becomes available? Then click here!