Editor's note: When the article originally appeared in SGR's OnlineFirst collection, Professor Kauffeld kindly provided further background on the article, including the three most surprising things about the study's findings. Read the Q&A here.
***
Are you tired of unproductive meetings? Here's how to make the most of meeting time and boost your team's productivity.
Using results obtained from real organizations, a study in Small Group Research (SGR) examined participants' interactions and communication behaviors during meetings—some functional, some not—to find the formula for success.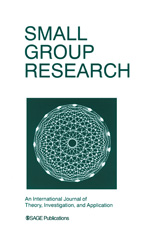 Simone Kauffeld and Nale Lehmann-Willenbrock, both of Technische Universität Braunschweig, published "Meetings Matter: Effects of Team Meetings on Team and Organizational Success" in SGR's April 2012 Special Issue on Organizational Meetings. Click here to view the Table of Contents.
The abstract:
This study follows the idea that the key to understanding team meeting effectiveness lies in uncovering the microlevel interaction processes throughout the meeting. Ninety-two regular team meetings were videotaped. Interaction data were coded and evaluated with the act4teams coding scheme and INTERACT software. Team and organizational success variables were gathered via questionnaires and telephone interviews. The results support the central function of interaction processes as posited in the traditional input-process-output model. Teams that showed more functional interaction, such as problem-solving interaction and action planning, were significantly more satisfied with their meetings. Better meetings were associated with higher team productivity. Moreover, constructive meeting interaction processes were related to organizational success 2.5 years after the meeting. Dysfunctional communication, such as criticizing others or complaining, showed significant negative relationships with these outcomes. These negative effects were even more pronounced than the positive effects of functional team meeting interaction. The results suggest that team meeting processes shape both team and organizational outcomes. The critical meeting behaviors identified here provide hints for group researchers and practitioners alike who aim to improve meeting success.
To learn more about Small Group Research, please follow this link.
Are you interested in receiving email alerts whenever a new article or issue becomes available online? Then click here!