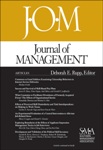 As we conclude our series on family business, we turn to a recent Journal of Management article entitled "The Adolescence of Family Firm Research: Taking Stock and Planning for the Future":
Through its rapid growth during the past decade, family business research has reached its adolescence as a field of study, and family business scholars now regularly contribute interesting and thought-provoking work to top-tier management, entrepreneurship, and finance journals. In this review article, the authors seek to document the growing maturity of family business research and to promote its integration into broader streams of inquiry in the organizational sciences. To do so, the authors describe recent family business research that addresses two fundamental questions: "How do firms differ in terms of their financial performance?" and "How do institutional conditions moderate performance differences between firms?" Based on their review, the authors describe the past and potential future contributions of family business research and conclude that it holds great promise to "give back" and provide meaningful contributions to the general field of management.
Eric Gedajlovic of Simon Fraser University, Michael Carney of Concordia University, James J. Chrisman of Mississippi State University and the University of Alberta School of Business, and Franz W. Kellermanns of the University of Tennessee and WHU (Otto Beisheim School of Management) published the article in the July 2012 issue of the Journal of Management.
The 2012 FFI Global Conference kicks off today in Brussels. Even if you are not attending, you can still watch the conference live at FFI.org!
Stay up to date on the latest family business research: click here to receive customizable e-alerts from sagepub.com.