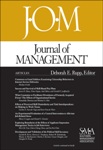 The Journal of Management (JOM) is committed to publishing scholarly empirical and theoretical research articles that have a high impact on the management field as a whole.
Editor's Choice Collections highlights some of the most important and influential articles of the management field. Currently, in the Articles of Interest section, there are 21 categories to choose from, including the newly added Entrepreneurship collection, Organizational Neuroscience, Work-family Conflict, Mentoring, CEO Compensation, and Corporate Social Responsibility/Sustainability, among others.
To see the other categories under Articles of Interest, as well as Review Issues, Best Paper Award Winners, and Special Issues, please click here.