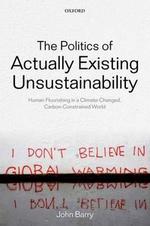 Barry, J. (2012). The Politics of Actually Existing Unsustainability: Human Flourishing in a Climate-Changed, Carbon-Constrained World. Oxford, England: Oxford University Press.
Read the review by Ted Benton of the University of Essex, forthcoming in Organization & Environment and now available in the journal's OnlineFirst section.
This, John Barry's latest book-length contribution to green political debate, offers original and engaging thought that draws not only on the latest scholarship but also on Barry's own direct involvement as a Green party activist and office-holder in Northern Ireland. The main thrust of Barry's argument is for a version of what he calls "Green Republicanism" that might serve as a policy orientation to take us away from a currently unsustainable and unjust form of social and economic life while defending the key socio-political values of liberty and democracy.
Click here to continue reading, and click here to receive e-alerts about the latest research from the journal that aims to encourage rigorous explorations and analyses of the connections between the management of organizations and any of the relevant dimensions of sustainability.