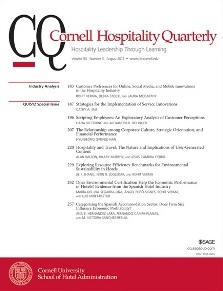 Cornell Hospitality Quarterly (CQ) focuses on publishing scholarly research with hospitality management implications. The articles, written by academics as well as industry leaders develop new ideas and perspectives. Each year, the journal acknowledges the contribution of its many authors by naming one article the best paper of the year.
CQ's 2012 Best Article Award winner is:
HyunJeong (Spring) Han, Cornell University
The Relationship among Corporate Culture, Strategic Orientation, and Financial Performance
Cornell Hospitality Quarterly, August 2012
And the runner up is:
Jie J. Zhang, University of Vermont School of Business Administration; Nitin R. Joglekar, Boston University School of Management; Rohit Verma, Cornell School of Hotel Administration
Exploring Resource Efficiency Benchmarks for Environmental Sustainability in Hotels
Cornell Hospitality Quarterly, August 2012
Our congratulations to these authors! Learn more about Cornell Hospitality Quarterly here, and click here to see past award winners.