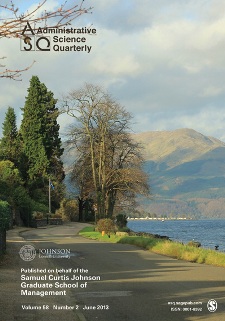 Volume 58, No. 2 (June 2013) of Administrative Science Quarterly is now available online. We hope you will find this issue insightful and thought-provoking. You can view the Table of Contents here.
The lead article, "Logics in Action: Managing Institutional Complexity in a Drug Court" was published by Chad Michael McPherson and Michael Sauder, both of the University of Iowa. From the abstract:
Drawing on a 15-month ethnographic study of a drug court, we investigate how actors from different institutional and professional backgrounds employ logical frameworks in their micro-level interactions and thus how logics affect day-to-day organizational activity. While institutional theory presumes that professionals closely adhere to the logics of their professional groups, we find that actors exercise a great deal of agency in their everyday use of logics, both in terms of which logics they adopt and for what purpose.
Click here if you'd like to receive customizable e-alerts from Administrative Science Quarterly so you don't miss out on upcoming issues as well as new articles in OnlineFirst. Learn more about the journal by clicking here.