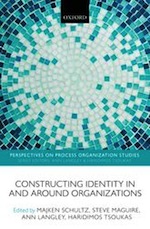 Majken Schultz, Steve Maguire, Ann Langley, and Haridimos Tsoukas, eds.: Constructing Identity in and around Organizations. New York: Oxford University Press, 2012. 329 pp. $99.00, cloth.
Read the review by Kimberly D. Elsbach of the Graduate School of Management at the University of California, Davis, published in Administrative Science Quarterly:
This edited volume challenges existing orthodoxy by defining organizational identity as a ''process'' rather than a ''state.'' That is, organizational identity is viewed as the answer to the question ''How are we becoming?'' instead of the question ''Who are we?'' This is a frame-breaking perspective and contrasts with traditional views of organizational identity as stable and ''enduring'' (Albert and Whetten, 1985). At the same time, this perspective fits with the recent work of a cadre of identity scholars who have been treading around the notion of ''identity as process'' for several years (e.g., Corley et al., 2006; Ravasi and Schultz, 2006, Gioia et al., 2010). The goal of the volume, then, is to see where this perspective of ''identity as process'' can take us if we take a forceful and deliberate stance in its support. The result is a set of theoretical and empirical chapters that show us what the future of identity research may hold.
Click here to continue reading; follow this link to see the latest issue of Administrative Science Quarterly and this one to see new articles and reviews in OnlineFirst.