The Academy of Management 2013 Annual Meeting is here!
SAGE's booth at AoM brings you the latest scholarly research from Administrative Science Quarterly, the Journal of Management, and other top-tier SAGE journals.
This year's meeting—Program Theme: Capitalism in Question—takes place in sunny Orlando, Florida from August 9-13. Click here for the program overview. Please stop by our booths (#601, 603 and 605) Saturday, Aug. 10 through Monday Aug. 12 from 8:00 AM – 5:00 PM to say hello! Whether or not you are able to attend this year, please enjoy the latest offerings from these SAGE business and management journals represented at AoM:
Administrative Science Quarterly Impact Factor: 4.182 | Ranking: 5/116 in Business | 8/172 in Management · This top-tier journal regularly publishes the best theoretical and empirical papers based on dissertations and on the evolving and new work of more established scholars, as well as interdisciplinary work in organizational theory, and informative book reviews.
Advances in Developing Human Resources ADHR spans the realms of performance, learning, and integrity within an organizational context. Balancing theory and practice, each issue of the journal is devoted to a different topic central to the development of human resources.
Business & Society Impact Factor: 1.936 | Ranking: 31/116 in Business · In this fast-growing, ever-changing, and always challenging field of study, BAS is the only peer-reviewed scholarly journal devoted entirely to research, discussion, and analysis on the relationship between business and society.
Compensation and Benefits Review CBR supports human resources and compensation and benefits specialists and academic experts with up-to-date analyses and information on salary and wage trends, labor markets, pay plans, incentive compensation, legal compliance, and more.
Family Business Review Impact Factor: 2.622 | Ranking: 19/116 in Business · FBR provides a scholarly forum to publish conceptual, theoretical and empirical research aimed to advance the understanding of family enterprise around the world. This journal publishes insightful articles that address issues at the interface of family and business systems.
Group & Organization Management Impact Factor: 2.957 | Ranking: 6/72 in Psychology, Applied | 29/172 in Management · GOM serves as an international forum for the latest research and analysis in organizational behavior, organization theory, business strategy, and human resources.
Human Resource Development Review This journal publishes articles that make theoretical contributions in papers devoted to theory development, foundations of HRD, theory building methods, and integrative reviews of the literature.
The Journal of Applied Behavioral Science Impact Factor:1.081 | Ranking:45/72 in Psychology, Applied | 99/172 in Management · This is the leading international journal on the effects of evolutionary and planned change. JABS is continually breaking ground in its exploration of group dynamics, organization development, and social change.
The Journal of Environment & Development Impact Factor: 1.079 | Ranking: 23/55 in Planning & Development | 57/90 in Environmental Studies · JED seeks to further research and debate on the nexus of environment and development issues at the local, national, regional, and international levels.
Journal of Leadership & Organizational Studies produces high-quality, peer-reviewed research articles on leadership and organizational studies, focusing in particular on the intersection of these two areas of study.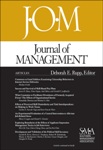 Journal of Management Impact Factor: 6.704 | Ranking: 1/72 in Psychology, Applied | 2/116 in Business | 2/172 in Management · JOM is committed to publishing scholarly empirical and theoretical research articles that have a high impact on the management field as a whole and cover such field as business strategy and policy, entrepreneurship, human resource management, organizational behavior, organizational theory, and research methods.
Journal of Management Education Over the course of the journal's 35-year history, its development reflects changes in the conceptualization, organization, and practice of management education as well as a long-standing editorial commitment to growth, learning, and innovation.
Journal of Management Inquiry Impact Factor: 1.141 | Ranking: 95/172 in Management · This journal's intent is to explore ideas and build knowledge in management theory and practice, with a focus on creative, nontraditional research as well as key controversies in the field.
Journal of Service Research Impact Factor: 2.714 | Ranking: 18/116 in Business · JSR aims to be the leading outlet for the most advanced research in service marketing, service operations, service human resources and organizational design, service information systems, customer satisfaction and service quality, electronic commerce, and the economics of service.
Organizational Research Methods Impact Factor: 3.926 | Ranking: 3/72 in Psychology, Applied | 11/172 in Management · This journal was established to bring relevant methodological developments to the attention of a broad range of researchers working in areas represented within the domains of the organizational sciences.
Small Group Research Impact Factor: 1.164 | Ranking: 36/60 in Psychology, Social | 41/72 in Psychology, Applied | 93/172 in Management · Through advancing the systematic study of small groups, this journal seeks to increase communication among all who are professionally interested in group phenomena.