Academic Funding
The U.S. Congress will often meet for several weeks without ever voting on anything of major significance.  But during the week of May 1, the House and Senate took major votes to prevent a government shutdown and fund the government through the end of the fiscal year.  Oh, and the House also approved Trumpcare…
Congress clears Fiscal Year 2017 Budget-Rejects President's Cuts for NSF and NIH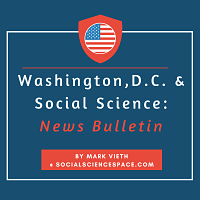 Seven months into the fiscal year, Congress finally cleared an "omnibus" appropriations bill to fund federal agencies and programs through the end of the fiscal year (September 30).  The agreement includes $7.472 billion for the National Science Foundation (NSF), a small increase of $8.7 million over Fiscal Year 2016 levels.  However, the amount for "research and related activities" is level funded at $6.033 billion.  Notably, the bill includes no reductions in funding for the Social, Behavioral and Economic (SBE) Sciences Research Directorate, and does not include any language giving priority to one scientific discipline over another.
In late March, the president proposed $17.9 billion in specific spending cuts to offset his proposed increases to pay for increased defense spending and a border wall.  These cuts included a $350 million cut for NSF's research and related activities, and $1.2 billion for the National Institutes of Health (NIH).  Both of these proposed cuts were soundly rejected in the final appropriations package, and in fact Congress agreed to include a $2 billion increase for NIH!
House Approves "Trumpcare" but Senate Will Do Something Different
 After several weeks of jockeying for votes between the conservative "Freedom Caucus" and the more moderate "Tuesday Group," House Republicans were able to cobble together enough votes to pass their version of legislation to repeal and replace the Affordable Care Act (ACA).  On May 4, the House voted 217-213 to approve the American Health Care Act (AHCA).
The key to securing the votes of the Freedom Caucus was an amendment offered by Representative Tom MacArthur (R-NJ) that gave states greater ability to reduce the costs of private insurance plans by allowing a return of insurance "underwriting" and discriminatory treatment toward older and sicker enrollees.  Enough members of the Tuesday Group were convinced to vote for the bill when senior Energy and Commerce member Fred Upton (R-MI) crafted an amendment to provide $8 billion toward high risk pools to help with the costs of covering those with pre-existing conditions.  Not a single Democrat voted for the bill.  The bill was almost universally opposed by stakeholder groups representing patients with chronic and pre-existing conditions.
Key members of the Senate have already indicated that they will craft a different bill than AHCA, and that it could take several weeks before new legislation is unveiled.  Because Senators represent entire states, their constituencies are more diverse, and, therefore, the Senate will more likely be more careful to ensure protections for those with pre-existing medical conditions.  Stay tuned!
COSSA-SAGE Briefing:  "Because Markets Can Save Lives"
 On April 18, the Consortium of Social Science Associations (COSSA) and SAGE Publishing sponsored a congressional briefing entitled "Why Social Science? Because Markets Can Save Lives."  The briefing highlighted the work of Dr. Alvin Roth, a Nobel laureate economist at Stanford University.
During his presentation, Roth discussed how his research on how knowledge of financial markets, as well as matching "markets" like dating and ride-sharing applications, can be applied to kidney transplantation. Roth's NSF-funded research resulted in the development of a kidney exchange matching system that has saved thousands of lives and millions of dollars in health care costs.  In 2012, Roth earned the 2012 Nobel Prize in Economics for this research.
Innovative science like Roth's research is often ridiculed at its initial inception ("why should taxpayers fund research into dating apps?"), until it translates into saving lives and money!
March for Science: What Next?
 The April 22 "March for Science" helped to raise national awareness of the importance of investing in scientific research and utilizing scientific data and evidence to drive policymaking decisions in Washington, D.C.  But now that the March has ended, how does the scientific community translate this new awareness to successful advocacy?
There will be many opportunities for the scientific community to engage directly with their elected officials throughout the year.  Here are just a few:
Fiscal Year 2018 Budget for National Science Foundation: Now that Congress has completed the FY17 budget, focus has shifted to FY18.  The community should advocate on behalf of the Coalition for National Science Funding's recommendation of $8 billion for NSF:  http://www.cnsfweb.org/FY18Statement.Final.pdf.  Senator Ed Markey (D-MA) is circulating a letter in the Senate supporting this request, and the community should contact Senators to urge their support.
Oppose efforts to defund specific scientific disciplines: Opponents of social and behavioral science and geoscience research may once again attempt to shift funding at NSF from these disciplines to others.  While no legislation is pending that would take this approach, the scientific community should be vigilant, particularly if the House Science Committee considers legislation later this year to "reauthorize" funding for the NSF.
 In the News…
Why Social Media Isn't Always Social
http://www.npr.org/2017/05/02/526514168/why-social-media-isnt-always-very-social
All the office talk about politics since Trump's election is stressing workers out
https://www.washingtonpost.com/news/on-leadership/wp/2017/05/03/all-the-talk-about-politics-at-work-is-stressing-out-a-lot-more-workers/?utm_term=.f934083d8d0e
Upcoming Hearings and Briefings
 Moynihan Lecture, Professor Alan Krueger: How Healthy is our Economy?
The Impact of Non-traditional Jobs and the Role for Public Policy, May 18, 2017, 4 p.m. to 5:30 p.m., Kennedy Caucus Room, 325 Russell Senate Office Building, https://www.eventbrite.com/e/2017-daniel-patrick-moynihan-lecture-tickets-33434625866
Vaccines:  Healthcare's First Line of Defense, May 16, 2017, 9:00 AM, 562 Dirksen Senate Office Building: https://www.eventbrite.com/e/congressional-briefing-tickets-33623890963
Late Night Quotable
Jimmy Fallon: "This weekend was the big march for science. And there were a lot of animal rights activists protesting Trump's policies on endangered species. Trump was like, "I love endangered species. That's why I refuse to drink the new unicorn Frappuccino at Starbucks."
Conan O'Brien: "Scientists have developed a new kind of robot that is able to shoot a gun. In fact, earlier today, I was carjacked by my Roomba." Conan O'Brien, April 20.
Stephen Colbert: "Huge election last night in Georgia's 6th District. It was an unusual election. It was what's called a "jungle primary," because like every election this year, it will probably end in madness and cannibalism."