---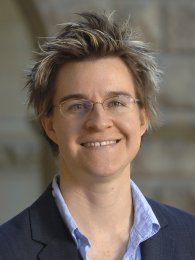 A post on the blog Political Violence at a Glance that gives a host of tips on how academics can be very political and yet not violence was judged to be the best in the international studies blogosphere last year.  Erica Chenoweth's "When Engaged Scholarship Means Resistance"  was named Best Blog Post in the annual Duckies awards handed out on April 6 at the International Studies Association's annual meeting.
Chenoweth, associate dean at the Josef Korbel School of International Studies at the University of Denver, addressed what might be considered 'best practices' for scholars who feel compelled to be more activist amidst popular demonstrations like the March for Science.
The Duckies, as the Online Achievement in International Studies (OAIS) Awards are known, honor achievement in blogging and social media. They date back to 2013 and the Duck of Minerva world politics blog, hence the names 'Duckies.'
Political Violence at a Glance – "expert analysis on violence and its alternatives" — also won Best Group Blog, while Steve Saideman's Saideman's Semi-Spew ("International Relations, Ethnic Conflict, Civil-Military Relations, Academia, Politics in General, Selected Silliness") received Best Individual Blog.
The Best Twitetr Account award went to Joshua Busby, an associate professor of public affairs at the University of Texas-Austin, and his @busbyj2.
A Special Achievement in International Studies Online Media award went to Adam David Morton and Gareth Bryant, founders of the Progress in Political Economy website based from the University of Sydney.
Ahead of the awards presentation, three influential international relations bloggers —Carleton University's Saideman,t Tanisha Fazal at the University of Minnesota, and Peter Trumbore of Oakland University — will give short Ignite presentations, offering an insight into how they create and maintain their own unique blogs.
The Duckies are a collaborative partnership between SAGE Publishing (the parent of Social Science Space) and the International Studies Association's Online Media Caucus.
---