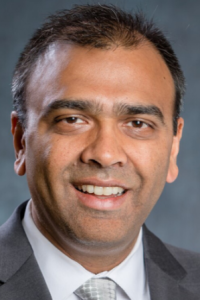 Life scientist Sudip Parikh has been tapped to head the American Association for the Advancement of Science, the organization announced last week. He will be the 19th chief executive the AAAS, the world's largest multidisciplinary scientific society, has had in its 171 years.

Parikh will assume his role as chief executive officer of the AAAS in January, replacing Alan Leshner. Leshner had served as CEO from 2001 to 2015, and temporarily returned to the post in September when physicist and former congressman Rush Holt retired.

At present, Parikh is senior vice president of the non-profit DIA Global, a membership organization focused on connecting life science professionals. In his work there, according to AAAS, he has led strategy and operations in the Americas, "overseeing effective non-partisan policy advocacy while growing membership." He is currently on the boards of Research!America and Friends of Cancer Research, and on the programmatic consultation committee of the National Center for Advancing Translational Sciences of the National Institutes of Health.
A message from the AAAS Board of Directors said Parikh "is well-positioned to lead AAAS into the future and brings significant expertise working across sectors and with policymakers in the U.S. and globally."
Before DIA, Parikh worked at non-profit science and technology company Battelle and as science advisor for the United States Senate's Appropriations Committee. He was also a Presidential Management Fellow at the National Institutes of Health. Parikh earned a Ph.D. in macromolecular structure and chemistry from California's Scripps Research Institute, where he was awarded a National Science Foundation Graduate Research Fellowship.
In his new role, Parikh will also be executive publisher of the Science family of journals.