In this 30-minute video, C. Lawrence Evans, the Newton Family Professor of Government at Virginia's William & Mary University, discusses the current complexion of the United States Congress during a particularly tumultuous time. Evans, one of the co-editors of the 12th edition of the textbook Congress Reconsidered, cites polarization and partisanship as key drivers of recent events.
Those events? Impeachment of the last president, debate on the future of the filibuster, consideration of whether Congress itself is dysfunctional (or operating as designed), even discussion of actual legislation. Evans provides concise and learned answers to a range of current concerns, and also discusses the role of the political scientist and the discipline during times when the word "unprecedented" is used, well, unprecedentedly.
Evans has been on the William & Mary faculty since 1987, receiving the Alumni Award for Excellence in Teaching as well several national awards for his research. His current teaching focuses on the Congress, the presidency, and legislative-executive relations. During 1991-93, Evans was the staff associate for Chairman Lee H. Hamilton on Congress's third Joint Committee on the Organization of Congress.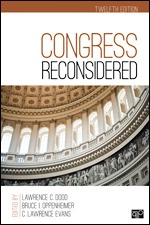 In addition to journal articles, chapters in edited volumes, and his work with Lawrence C. Dodd and Bruce I. Oppenheimer on Congress Reconsidered, Evans has written three books: The Whips: Building Party Coalitions in Congress (2018), Congress Under Fire: Reform Politics and the Republican Majority (with Walter Oleszek, 1997), and Leadership in Committee: A Comparative Analysis of Leadership Behavior in the U.S. Senate (1991, 2001).
---
Free Chapters from Congress Reconsidered
The book's 15th chapter, on congressional investigations, pointedly asks, asks, "Has Polarization (and Trump) Broken the Investigative Check?" The chapter's authors, Douglas L. Kriner of Cornell University and Eric Schickler at the University of California, Berkeley, review the history of intransigence in the American executive branch, and predicted — more directly than they may have intended, as it turns out — "If the impeachment saga is a template for future presidents, it will have implications extending far beyond Trump's last day in office." they then add, "Trump's unprecedented obstruction of Congress could seriously alter the balance of power across the branches for the foreseeable future."
The next chapter, by Princeton University's Nolan McCarty, takes a deeper dive into "How Congressional Polarization is Transforming the Separation of Powers." Focusing specifically on three areas of legislative purview – passing laws, appropriating money and approving executive appointments — McCarty suggests that the decline in legislative performance attributed to polarization also harms the executive, even as the executive assumes more power to overcome gridlock.
"[T]he substitution effect favoring the executive may pale in comparison to the lost policy impact due to the complementarities between legislative statutes and executive power. Many tools of executive policy making depend in large part of statutory delegation from Congress. A less active Congress gives the president much less to work with."