While poverty and inequality in the United States are appalling realities, it's safe to say that a substantial body of myth enshrouds the sad facts. Join sociologists Mark Rank, the Herbert S. Hadley Professor of Social Welfare in the George Warren Brown School of Social Work at Washington University in St. Louis, and Dawne Mouzon, associate professor in the Edward J. Bloustein School of Planning and Public Policy at Rutgers University, as they lead an hourlong online discussion on "Myths and Realities of U.S. Inequalities."
The free webinar starts at 1 p.m. ET/10 a.m. PT on Tuesday, May 4. To register, click below.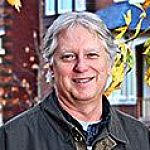 Rank is the author of Confronting Poverty: Economic Hardship in the United States. His research on the life course risk of poverty has been groundbreaking, demonstrating for the first time that a majority of Americans will experience poverty at some point during their lives. In Rank's presentation, he plans to dispel common myths about poverty to help explain the role it plays in economic inequality. Those myths are:
Poverty happens to other people
Most of the poor live in inner cities
America' poor can rise from rags to riches with hard work
Poverty is the result of individual failure
America's poor are comparatively well off
Mouzon is a contributor to Getting Real About Race and author of the forthcoming Health and Inequality: The Social Origins of Racial and Ethnic Health Disparities. Her research interests are health disparities, social inequality, race/ethnicity, aging, and families, and her published research has appeared in sociology and public health journals. She plans to address misconceptions about the health of Black Americans to expose the realities of racial discrimination, as detailed in these five myths:.
Poor health outcomes for Black Americans are due to poor health choices
Black American are less healthy than White Americans because of their lower socioeconomic status
Racism primarily affects mental health, not physical health
Black Americans have more mental health problems than White Americans
Distrust of medicine is primarily about historical events like the Tuskegee Syphilis experiment