"What many businesses now understand is that CSR is not a department or role or office or report, but a mindset."

Debbie Haski-Leventhal
In the latest episode of Teaching Business for People and the Planet, SAGE Publishing's new webinar series on the teaching and future of Business and Management, author and academic Debbie Haski-Leventhal is interviewed about Corporate Social Responsibility (CSR).
The webinar covers:
The recent growth of CSR in light of social movements such as Black Lives Matter, Extinction Rebellion and the transgender rights movement within culture and, in turn, within organizations.
Framing CSR as a holistic and strategic responsibility of business that includes environmental responsibility, stakeholder engagement, ethics and more.
New and emergent topics like corporate political activism and social intrapreneurship in relation to CSR.
How to embed CSR throughout the business education curriculum.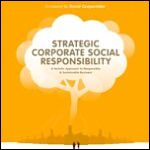 Haski-Leventhal, a professor of management at Macquarie Business School, also discusses the new edition of her textbook, Strategic Corporate Social Responsibility: A Holistic Approach to Responsible and Sustainable Business, which contains current, global case studies and provides a toolkit that students can use in their future careers.
The first webinar in the People and Planet series featured Oliver Laasch on "Reinventing Management the Responsible Way." Click here to watch that, or click the banner below for more information on the series itself.