In honor of Peer Review Week (September 19-23), the next in SAGE Publishing's series of 'how to get published' webinars will shed some light on how to navigate the peer review process. The free event takes place on September 21 at 8 am PT / 11am ET / 5 pm CET.
Oftentimes, once you submit a paper to a journal, it may be unclear what is going on behind the scenes. How long does it take for a manuscript to go through peer review? How can you better outline your paper to ensure all goes smoothly in the peer review process? Does it matter whether you submit to a single or double anonymous peer review model?
Send in your questions via Twitter and Instagram using the hashtag #SAGEHowToGetPublished
Jessica Lipowski manages a range of science and medicine journals as a publishing editor on the STM Journals Editorial team. At SAGE, she has worked closely with the author team to create and develop resources to help early career researchers across disciplines better understand the publishing process and publish their research.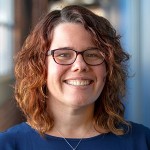 Jill L. Adelson is the president and CEO of Adelson Research & Consulting, LLC. Her research interests include applying advanced statistics to study gifted and mathematics education. Adelson is the co-editor of Gifted Child Quarterly. Papers she has co-authored received the American Educational Research Association Pyryt Collaboration Award and the Gifted Child Quarterly Paper of the Year award in 2013 and 2009.
Vicky Crittenden is a professor of marketing and Babson Research Scholar. She is currently the editor of the Journal of Marketing Education and has edited several books. Crittenden has received numerous teaching and research awards, including the American Marketing Association Higher Ed SIG Lifetime Achievement Award in 2021 and the Babson College Senior Scholar Award in 2020.
Brittney Stewart is a peer review manager at SAGE Publishing. Since joining SAGE in 2020, she has supported the SAGE Track support team and provides a rich understanding of publication ethics and peer review best practice.
---

HOW TO GET PUBLISHED WEBINAR SERIES
June 22 (past) – How to select a journal and relevant metrics
July 20 (past) – How to write a journal article and advice on revisions
August 24 (past) – Mentorship and general drop-in session
September 21 (upcoming – see above) – How to navigate the peer review process as an author
October 19 (upcoming – register) – Open access and author rights, in honor of Open Access Week
November 16 (upcoming – register) – How to promote your article and increase citations