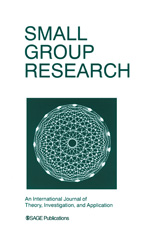 Jared A. LeDoux of Louisiana State University, C. Allen Gorman of Radford University, and David J. Woehr of the University of North Carolina-Charlotte published "The Impact of Interpersonal Perceptions on Team Processes: A Social Relations Analysis" in the June 2012 issue of Small Group Research. To view other articles in this issue, please click here.
The abstract:
This study utilized the social relations model (SRM) to examine the influence of interpersonal perceptions on team processes and outcomes. We hypothesized that the three components of the SRM (assimilation, consensus, and unique relations) would yield differential relationships with group process outcomes. We proposed that unique relations in members' perceptions of group members, perceptual relationships specific to particular dyads within a focal group, would be a source of negativity within teams' outcomes. Participants were undergraduates who worked in small groups for assignments for the duration of one semester; each member rated themselves and their teammates on five individual-level characteristics. Hypotheses about unique relations were supported. This component of the SRM model was positively related to conflict and negatively related to cohesion, showing the greatest relative importance among the three SRM components in predicting team process and outcomes.
To learn more about Small Group Research, please follow this link.
Are you interested in receiving email alerts whenever a new article or issue becomes available online? Then click here!