It's not every management course that has students requesting an exam, explaining that they want to come to class prepared to reap the benefits of the learning experience. Yet that's exactly what happened in the innovative Climate Change Policy course developed by Melissa Paschall and Rolf Wüstenhagen of the University of St. Gallen, Switzerland.
Dr. Carolyn Egri of Simon Fraser University interviewed the authors about their article, "More Than a Game: Learning About Climate Change Through Role-Play," published in the August 2012 issue of the Journal of Management Education (JME). Click here to download the podcast, and here to subscribe on iTunes. Also check out this video highlight of the project, a finalist in the global PRME LEADERS+20 Competition.
Melissa Paschall is a doctoral student in Management at the University of St. Gallen in Switzerland, where she helped develop the CEMS Climate Change Role Play. From November 2010 through March 2012 she was a visiting student at MIT's Sloan School of Management. Melissa has consulted companies and non-profits on sustainability issues both independently and as a Senior Consultant at Sustainable Business Strategies. Her current research focuses on ethical trading relationships and sustainable livelihoods for small farmers.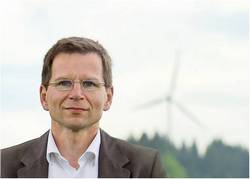 Dr. Rolf Wüstenhagen is a Director of the Institute for Economy and the Environment (IWÖ-HSG) and holds the Good Energies Chair for Management of Renewable Energies at the University of St. Gallen. He graduated in Management Science and Engineering (TU Berlin) and holds a PhD in Business. In 2005, 2008 and 2011, respectively, he held visiting faculty positions at University of British Columbia (Vancouver), Copenhagen Business School, and National University Singapore. His research focuses on decision making under uncertainty by energy investors, consumers and entrepreneurs. From 2008-2011 he served as a lead author for the Intergovernmental Panel on Climate Change (IPCC) on the Special Report on renewable energy and climate change mitigation. Since 2011, he is a member of the advisory board for the Swiss government's energy strategy 2050.
Dr. Carolyn Egri, professor of management and organization studies at Simon Fraser University, is a pioneer in research related to corporate environmental and social responsibility – she has been publishing on this topic for more than 15 years, long before it became trendy. "It's meaningful work," she says. "Since it's a relatively new field, it's very exciting – there's the opportunity to develop new standards and ideas." A TD Canada Trust Distinguished Teaching award recipient, Carolyn has been examining corporate environmental social responsibility practices as well as cross-cultural differences in managerial values and influence tactics around the world. Carolyn is a former chair of the Academy of Management's Organizations and the Natural Environment interest group and has been chair of the Social Sciences and Humanities Research Council's Research Development Initiatives adjudication committee.
Follow this link to hear more interviews from the Journal of Management Education podcast series. Further information about the journal can be found here.
Are you interested in receiving email alerts whenever a new article or issue becomes available? Then click here!