How can organizations create a culture of innovation? For today's post, we've selected articles that examine this topic in the context of organizational momentum, interorganizational relationships, transformational leadership, CEOs' attitudes toward change, and more: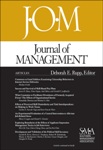 Scott F. Turner of the University of South Carolina, Will Mitchell of the University of Toronto/Duke University, and Richard A. Bettis of the University of North Carolina at Chapel Hill published "Strategic Momentum: How Experience Shapes Temporal Consistency of Ongoing Innovation" on September 27, 2012 in the Journal of Management.
Jason P. Davis of Massachusetts Institute of Technology and Kathleen M. Eisenhardt of Stanford University published "Rotating Leadership and Collaborative Innovation: Recombination Processes in Symbiotic Relationships" in the June 2011 issue of Administrative Science Quarterly.
Audrey Charbonnier-Voirin of INSEEC Bordeaux, Assâad El Akremi of Université de Toulouse I Capitole, and Christian Vandenberghe of HEC Montréal published "A Multilevel Model of Transformational Leadership and Adaptive Performance and the Moderating Role of Climate for Innovation" in the December 2010 issue of Group & Organization Management.
Samuel T. Hunter and Lily Cushenbery, both of The Pennsylvania State University, published "Leading for Innovation: Direct and Indirect Influences" in the August 2011 issue of Advances in Developing Human Resources.
Martina Musteen of San Diego State University, Vincent L. Barker III of the University of Kansas, and Virginia L. Baeten of the University of Wisconsin–Milwaukee published "The Influence of CEO Tenure and Attitude Toward Change on Organizational Approaches to Innovation" in the September 2010 issue of the Journal of Applied Behavioral Science.
Would you like to receive e-alerts about the latest management research from these and other top-tier scholarly journals? Click here to sign up at sagepub.com, and take advantage of Free Access to all SAGE Online Content Now Through October 31st.