Of the Fortune 100 companies leading today's economy, notes Fred Ledley, fully a third are purely focused on science and technology–health care, communications, and logistics, for example; and a third are in fields that have been completely transformed by technologies, such as banking, energy, and natural resources. "In the world that's coming," he says, "where knowledge is doubling every two years and innovation has become not something that's unusual, but something that's necessary day to day," business school grads must be ready to sit at the table with scientists, technologists, and engineers "and extract what is valuable to their companies."
Professor Ledley, who directs the Center for Integration of Science and Industry at Bentley University, recently joined editor Jane Schmidt-Wilk on the Journal of Management Education podcast to talk about his paper, forthcoming in the journal and co-authored by Stephen Holt of Olin College, which argues business programs should require science courses designed expressly to meet the needs of business students. Click here to play or download the podcast interview or subscribe on iTunes by following this link.
F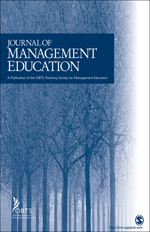 red D. Ledley, MD is the director of the Center for Integration of Science and Industry and a Professor in the Department of Natural and Applied Sciences and Department of Management at Bentley University. A recognized opinion leader in the integration of basic biological science with medicine, business, society, and education, he has written more than 170 papers and patent applications in fields ranging from molecular and human genetics and gene therapy to bioethics, biopharmaceutical development, and biotechnology. Ledley has served on the faculties of the Baylor College of Medicine and the Howard Hughes Medical Institute, and was involved in founding several biotechnology companies including GeneMedicine, Inc. and Variagenics Inc. in the area of gene therapy and personalized medicine, serving in roles ranging from VP R&D and CSO, to President & CEO. He serves as Chair of the National Biomedical Research Foundation and has served on the Board of Directors of the Massachusetts Biotechnology Council, the Board of Overseers of Boston Children's Hospital, and as a consultant to industry, academia, and government. His research focuses on strategies for accelerating the translation of scientific discoveries for public benefit.
Jane Schmidt-Wilk teaches courses in management and organizational behavior, qualitative research methods, communication skills, teaching, and academic writing. Dr. Schmidt-Wilk is currently Dean of Teaching and Learning at Maharishi University of Management. She was Editor of the Journal of Management Education from 2005 to 2012 and continues to serve on the editorial boards of several academic journals in the field of management. Dr. Schmidt-Wilk has served as an ex-officio member of the Board of Directors of the OBTS Teaching Society for Management Educators and been a member of the Academy of Management and the Midwest Academy of Management. She has made numerous presentations at these and other professional conferences.