Nowruz (translating as New Day in Farsi) marks the first day of spring and is celebrated on the day of the astronomical vernal equinox, which usually occurs on March 21. For more than 3,000 years, Nowruz (also Navroz, Novruz, and Newroz depending on dialect) has been celebrated as the beginning of the new year. It is marked today by more than 300 million people all around the world, especially in the Balkans, the Black Sea Basin, the Caucasus, Central Asia, and the Middle East.
Nowruz is an ancestral festivity marking the first day of spring and the renewal of nature, with origins in Zoroastrianism. It was added to the UNESCO List of the Intangible Cultural Heritage of Humanity in 2016.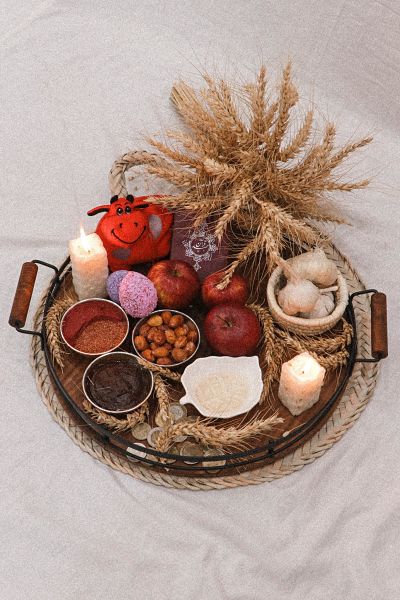 How does it begin?
People start the new year preparations with a spring cleaning of their home, as well as buying new clothes for Nowruz.
Another key tradition is setting up the Haft-Sin table, which translates to the Seven S's in Farsi. There are seven elements beginning with S that symbolize different qualities for the year ahead. This includes apples for good health, candles for light, eggs for fertility, wheatgrass for rebirth and renewal, vinegar for wisdom, and a gold coin for abundance and prosperity.
Chaharshanbe Suri is celebrated on the eve of the last Wednesday of the year. Friends and family gather together to create a bonfire, and it is believed that jumping over this fire brings fortune and takes away misfortune in the coming year.
On the day of Nowruz and after
With a freshly cleaned home, new clothes and the Haft-Sin table, people are ready to celebrate the new year. It is customary to visit friends and family, with younger people visiting their elders. The main dish of the day is sabzi polo ba mahi, fish served with herb-infused rice.
At the end of the festival, the wheatgrass that was part of the Haft-Sin table can be tied with knots and taken to a place with running water, such as a lake or river. It will float away, along with your hopes and dreams for the year ahead.
SAGE Publishing Resources