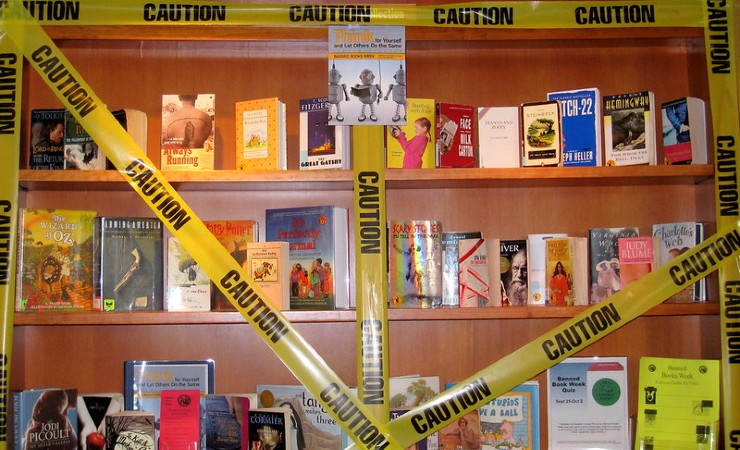 While book bans themselves remain sadly frequent across the United States, increasingly those efforts have zeroed in on campuses. PEN America, a nonprofit that advocates for free expression, cited in its report "The Growing Movement to Censor Books in Schools" more than 2,500 instances of book bans during the 2021-2022 school year, affecting over 1,600 titles. The organization reports that over 40 percent of the books banned featured LGBTQ+ themes and another 40 percent featured "protagonists or prominent secondary characters of color." More than 20 percent "directly address issues of race and racism." While PEN's statistics reference K-12 schools, bans on colleges and universities mirror that.
PEN writes that 36 states introduced 137 "gag order" bills, which restrict discussions of certain topics in classrooms, in 2022 — up from 22 states introducing 54 bills in 2021. Some 39 percent of those 137 bills target colleges and universities, up from 30 percent in 2021.
One of seven gag orders signed into law earlier this year, Florida's House Bill 7 affects public schools, colleges, and universities. The law states that "a curriculum cannot include concepts such as that anyone is 'privileged or oppressed' based solely on 'their race, color, sex, or national origin' or that anyone is 'inherently racist, sexist, or oppressive, whether consciously or unconsciously,' by virtue of 'their race, color, sex, or national origin.'"
The president of the United Faculty of Florida argues "the bill could create a chilling effect on Florida classrooms, with professors erring on the side of caution and self-censoring for fear of breaking the law." As legal analyst attorney Steve Kramer asks, how do you teach about slavery and the Civil War "without running afoul of this?"
Another new law, South Dakota's HB 1012, prohibits colleges and universities "from compelling students to adopt or affirm certain ideas from a list of 'divisive concepts' related to race, color, religion, sex, ethnicity, or national origin." According to the Human Rights Campaign, "the bill forces self-censorship with educators and is an effort to erase and marginalize Indigenous history, LGBTQ+ education, and other oppressed voices in and outside of the classroom.
Tennessee's HB 2670, also now law, prohibits "public colleges and universities from conducting any mandatory student or employee training that includes ideas from a list of 'divisive concepts' related to race, sex, religion, creed, nonviolent political affiliation, social class, or any other 'class of people,' or that 'promotes resentment' of any such group." It is possible that "training" can be interpreted as classroom instruction.
Some 57 percent of the bills passed in 2022 proscribe an explicit punishment for violations, up from 42 percent in 2021. The majority of punishments fall into three categories: a civil suit, included in 35 percent of bills, monetary penalty/loss of state funding (26 percent), and professional discipline (22 percent). "Provisions in the bill that allow administrators to fire professors who fail to comply with newly enacted pedagogic restrictions threaten the job security of those working in public universities," reports Douglas M. West, vice president and director of the Brookings Institution's Governance Studies.
"Attacks on LGBTQ+ identities have increasingly been at the forefront of educational censorship," PEN notes, with 23 bills (as of August) targeting LGBTQ+ classroom discussions, up from just five the year before.
Book bans in K-12 schools and gag orders in academia also target issues of race and racism. "This is an aspect of a broader political and cultural struggle over who belongs, or what values prevail in American society," says Sigal Ben-Porath of the University of Pennsylvania Graduate School of Education. Both book bans and gag orders in higher education are "trying to minimize both the history of slavery and discussion on injustices today."
Jeremy Young, PEN's senior manager for free expression and education, says, "the legislation is often characterized by the banning of vague concepts, rather than providing specifics about what teachers can and cannot say and teach." In this way, teachers and professors are more likely to self-censor than try to articulate a discussion without breaking the law.
Such attacks on higher education, particularly on values issues, aren't new. "The red scare of the 1950s marginalized dissent and chilled the nation's campuses," recalls Ellen Schrecker, a McCarthy-era historian. Amongst charges of being communists, professors were fired. During the 1960s, "students and faculty alike were engaged in protests, demonstrations, and strikes related to issues such as the draft, civil rights, discrimination, and women's liberation." In response, then-gubernatorial candidate Ronald Reagan blamed "university administrators and faculty, who 'press their particular value judgments' on students." He suggested "a code of conduct be imposed on faculty to 'force them to serve as examples of good behavior and decency.'" In the 1980s, the conservative group, Accuracy in Academia, asked students to monitor and report professors. AIA founder, Reed Irvine, called liberal arts colleges "hotbeds of liberalism and turn out little liberals who go knee-jerking their way through life." Turning Point USA, a far-right conservative nonprofit, created a Professor Watchlist "of radical leftists that it calls for purging from academia." In recent years, professors listed on the website have been targets of harassment and death threats.
As was the case in the '60s and the '80s, these initiatives often come from the right. "Only one bill out of the 137 introduced so far this year has had a Democratic legislative sponsor," PEN reports. The content of the books being banned is the same as topics restricted in classrooms.
"In 2023, we anticipate that the assault on education will continue. More gag order bills will be filed in states where they failed narrowly this year," according to PEN. Advocates of free expression and public education alike should be alarmed. PEN America along with the American Association of Colleges and Universities released a joint response to the rising attacks on books and campus topics, saying that, "Any legislative effort to circumscribe freedom of inquiry and expression in order to hew to political directives and agendas denies students essential opportunities for intellectual growth and development. In doing so, such an effort undermines our society's democratic future." Students need to evaluate evidence and form their own judgments, and for that, they must be exposed to new ideas, not denied them.