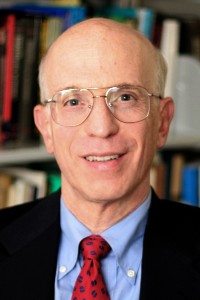 Alan S. Blinder, an economist whose work spans academia, policy and the popular press, will receive the 2023 Daniel Patrick Moynihan Prize from the American Academy of Political and Social Science, AAPSS announced today. Recipients of the Moynihan Prize, awarded annually, are leading policy-makers, social scientists, or public intellectuals whose careers demonstrates the value of using research and evidence to improve the human condition.
Blinder is the Gordon S. Rentschler Memorial Professor of Economics and Public Affairs at Princeton University, where he has been on the faculty since 1971. He served as a member of President Clinton's Council of Economic Advisers from 1993 to 1996, and then as vice chairman of the Board of Governors of the Federal Reserve System.
In addition to advising politicians and policymakers, Blinder helps the public better understand the state of the American economy through his Wall Street Journal column and by appearing frequently on television. His most recent book, A Monetary and Fiscal History of the United States, 1961–2021, came out last year.
He is a fellow of the American Academy of Arts and Sciences and the American Philosophical Society and became a Fellow of the AAPSS in 2009. He is also a former trustee of the Russell Sage Foundation and remains active on several national organizations, including the Council on Foreign Relations. At Princeton, Blinder was the Founder of the Griswold Center for Economic Policy Studies, which he either directed or co-directed from 1989 to 2011.
"Alan combines world class scholarship and dedicated public service with a steadfast commitment to improving public understanding and the common good through his work," said AAPSS President Marta Tienda. "He is one of the most influential macro economists in the world: his economics text and scores of academic papers have immeasurably improved the economics profession, and his many books, columns and op-eds have been an invaluable resource to a general public in need of plain-language depictions of complicated economic crises and economic history."
Blinder will receive the Moynihan prize later this year at a public event in Washington D.C. at which he will give a lecture and participate in a panel discussion on contemporary economic circumstances.
Previous Moynihan Prize recipients include John Holdren, former director of the White House Office of Science and Technology Policy; economist and Nobel laureate Joseph Stiglitz; sociologist and Harvard professor William Julius Wilson; Samantha Power, director of USAID, and children's rights advocate Marian Wright Edelman.