It's in the news: your coworkers are gossiping about you—but that's not necessarily a bad thing. Understanding the dynamics of workplace gossip can lead to valuable insights about management and organizations. When is gossip more likely to flow? What makes an employee engage in, or avoid, positive or negative gossip?
Lea Ellwardt, Rafael Wittek and Rudi Wielers, all of the University of Groningen, published "Talking About the Boss: Effects of Generalized and Interpersonal Trust on Workplace Gossip" on June 28, 2012 in Group & Organization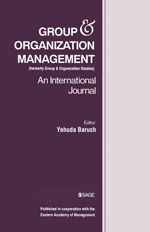 Management (GOM). This innovative study looks specifically at workplace gossip about managers—both positive and negative—and the role of interpersonal trust in determining gossip dynamics:
The employees' decision to gossip is guided by the trust embedded in the horizontal and vertical relationships in the triad. The level of trust in the manager influences the tone of gossip (i.e., vertical relationship). Furthermore, employees need to trust that their immediate colleagues will support the gossiper and not leak the information (i.e., horizontal relationship). In brief, we expect negative gossip to increase with the degree of distrust in vertical relationships and trust in horizontal relationships. Positive gossip is less risky and expected to be less affected by trust.
Read the full article here. To learn more about Group & Organization Management, follow this link.
To receive email alerts about newly published articles and issues, click here.