As organizations' ethical failures continue to pile up in the news headlines, there is no better moment to get a firm grasp on how ethical systems work and how they can be more successfully managed. Group & Organization Management has published an up-close, qualitative study of cadets at West Point—the nation's oldest military service academy, with its two-centuries-old Honor Code—to discover the complex competing forces, or tensions, at work in these systems, concluding that both scholars and practitioners may find this information useful in developing a code of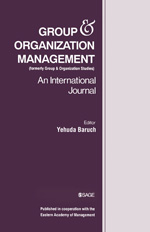 ethics that works. Take a look at just one example from the study:
[W]e interviewed a newly minted Army major who just arrived to teach Mathematics at the Academy. During an emotional portion of the interview, he admitted to witnessing cadets cheat back when he was a cadet. Rather than bring it to the attention of the Honor board, he chose to remain silent. He said,

It wasn't so much about them, it was more about me [with emphasis]. I wanted to be liked. Wanted to be popular. I guess what I wanted, in a tough environment like this [West Point] is that I just wanted to be accepted. If I told on them, I'd lose all of that.

 As evidenced by this sentiment, reconciliation of these competing forces is not always successful. At other times, we found this cognitive and emotional struggle realized.
Click here to read the full article, "Reconciling Competing Tensions in Ethical Systems: Lessons From the United States Military Academy at West Point," published by Evan H. Offstein of Frostburg State University, Ronald L. Dufresne of Saint Joseph's University, and J. Stephen Childers, Jr. of Radford University on September 13, 2012 in Group & Organization Management. To learn more about the journal, please follow this link.
Are you interested in receiving email alerts about the latest management and organization theory research? Then click here!