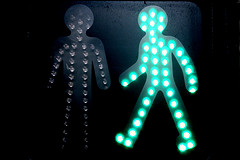 Part Three: Overcoming the Obstacles

Organizational change is a complex process. In working to lead change effectively, managers may face difficult decisions, resistance, or uncertainty about how to move forward. They must be prepared to learn new skills, face paradoxical choices, work with individual behaviors and attitudes, and meet other challenges that may bar the path to success.
Today, we examine research that tackles some of these key concepts:
Change efforts can present opportunity on the horns of a dilemma. Larry Peters of Texas Christian University published "The Rhythm of Leading Change: Living With Paradox" in the Journal of Management Inquiry October 2012 issue. From the abstract:
This article focuses on an interesting type of challenge that can fight against effective leadership in large-scale change efforts. The type of challenge the author refers to is a paradox—alternatives that don't follow from each other, where both alternatives appear necessary, but where choosing one acts to negate the other.
Employees are critical to successful change; their cognitions, perceptions, and attitudes matter. Eric Lamm of San Francisco State University and Judith R. Gordon of Boston College published "Empowerment, Predisposition to Resist Change, and Support for Organizational Change" in the Journal of Leadership & Organizational Studies November 2010 issue. From the abstract:
This article investigates the extent to which empowerment and dispositional characteristics contribute to behavioral support for organizational change. The study is the first to use a comprehensive intrapersonal variable—psychological empowerment—to represent the interaction between an individual and his or her work environment.
Future business leaders must develop their skills for leading change now. Amy C. Lewis of Drury University and Mark Grosser of EM-Assist, Inc. published "The Change Game: An Experiential Exercise Demonstrating Barriers to Change" in the Journal of Management Education October 2012 issue. From the abstract:
Students may underestimate the difficulty of convincing others to work toward change; the authors developed the Change Game as a tool to help students experience the difficulties of leading change and identify opportunities for skill development in the area of change leadership.
Want to stay on top of the latest research on organizational change? Click here to sign up for e-alerts.