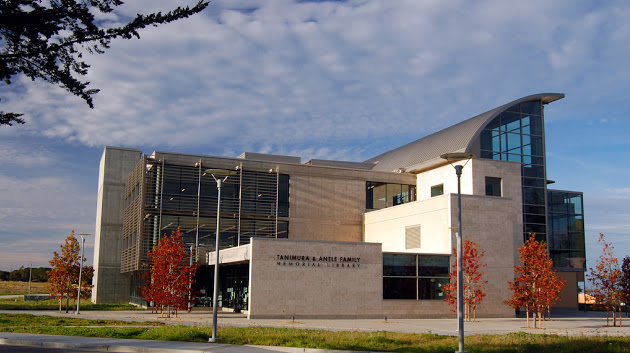 International Debate
---
The media likes to talk about itself, so it's no news that traditional avenues for disseminating information—newspapers, magazines, books, recordings, cable TV—feel the hot breath of digital delivery breathing down their necks. But what of libraries, where silence has been a hallmark? Are they seething or cooing?
A new survey of U.S. academic libraries by consultancy Ithaka S + R finds the institutions are — quietly — transitioning to a mostly digital future.
Ithaka S + R's Managing Director Deanna Marcum offered a view from above the changing terrain: "Local print collections are losing primacy as remotely accessed online resources increase in importance, new discovery services have changed the library's role as a gateway, and the introduction of computational research methods has yielded demand for innovative and customized services and relationships."
This isn't news to libraries — here's a nice Lisa Spiro PowerPoint on the trends from two years ago, for example — but it might open eyes for the rest of the campus. While the popular perception of the library has focused on being a repository—hence the stacks—they've always had an equal or even greater import as a guide—hence Mr. Dewey's system. As so as paper fades to yellow, that second role has taken on a larger role as libraries aim to stay relevant. As the survey concludes:
Library directors' attitudes toward print collections are shifting, with respondents placing less emphasis on building library collections. Research support is changing, with many respondents reporting the deployment of innovative new services for faculty members despite some declines in the share who place high value on supporting faculty research. At the same time, more and more directors are embracing a strong role for their libraries in undergraduate teaching and information literacy education.
"When a university experiences a major shift in pedagogy along with dramatic changes in the form and use of scholarly information," as Ithaka's own staff anthropologist Nancy Fried Foster noted in a February brief on library design, "either its library can be dragged along or it can join the vanguard." And so the almost 500 respondents suggest that while it may be sometimes grudging and perhaps even a bit unfocused, their institutions generally are trying to lead. But good intentions sometimes aren't enough:
There was a marked contrast between the number of respondents who reported that they aspire for their library to be seen by users as a starting point and the number who indicated that they are currently their users' best option. Only 59% said that their library is always the best place for users to start their research.
Stuff or staff?
Ithaka S + R last surveyed academic libraries in 2010. The effort is part of a trio of triennial longitudinal surveys of academic professionals; university faculty were questioned in 2015 and will be again in 2015, while students were surveyed in 2011. Mashing together the various reports gives insights – i.e. "There may be intriguing changes concerning format transition issues for books, especially given the real divergence in views between library directors and faculty members" — that might be lost in both broader and narrower examinations.
---

Webinar on report

Survey co-author Roger Schonfeld was joined by SAGE Market Research Analyst Elisabeth Leonard to discuss "Insights from Academic Library Directors." To view the webinar held March 11, click here.

---
This edition, by Matthew P. Long and Roger C. Schonfeld, reached out to the dean or director of the principal library at every accredited four-year college and university in the U.S. with a library and library director. All told, 33 percent of the more than 1,500 people queried responded to the survey. Responses were segregated into three categories based on the institutions answering—purely four-year colleges, masters-granting institutions and research universities.
The survey was sponsored by Cengage Learning, ExLibris, SAGE (Social Science Space's host) and JSTOR. Ithaka S + R is an arm of Ithaka, a non-profit organization that includes JSTOR and the Portico digital preservation service.
While libraries by necessity are coping with the digital tsunami and the conceptual rethink in its wake, less than half of librarians had a "well-developed strategy" for serving the changing needs of their patrons. That was also evidenced in the 2010 survey, and what's notable is that not only is that little changed in the intervening three years, but master's-level librarians slightly less likely to report that had a strong strategy this iteration. Only at the baccalaureate schools was there evidence of a forward movement—the fraction citing a well-developed strategy doubled from about a fifth of respondents to just under two fifths.
The authors were a little unsure what to make of these particular figures, wondering both if this was some sort of indistinct trend and also whether the answers reflected a genuine lack of strategy of a failure to figure out what users really needed.
Money, or rather the lack of it, inevitably was the biggest obstacle. At No. 1, with nearly 90 percent of respondents citing it, was lack of cash. Next came lack of staff in key areas, and then challenges in implementing key technologies.
But if there were concerns about strategy at the top, there were also concerns about reaction at the bottom, especially at master's institutions. Asked about impediments to change, " 'General resistance to change among library staff" was selected by a striking 26% of respondents from master's institutions, compared with 20% at doctoral institutions and only 9% at baccalaureate institutions."
That response came in at No. 4 to the question, "What are the primary constraints on your ability to make desired changes in your library?" Money, or rather the lack of it, inevitably was the biggest obstacle. At No. 1, with nearly 90 percent of respondents citing it, was lack of cash. Next came lack of staff in key areas (roughly half of those surveyed), and then challenges in implementing key technologies (about a quarter).
To meet these challenges, the struggle with resources always comes down to stuff or staff. For most librarians, the answer is easy: staff.
Asked what they'd do if their budget grew by extra 10 percent, about half of respondents said they'd put it toward new (or redefined) staff. In addition, about a fifth said they'd use the money to grant raises, a desire that was particularly strong among the baccalaureate schools.
Where would that staff go? Asked where personnel were likely to be added or subtracted in the next five years, the growth areas were "Instruction, instructional design, and information literacy services," "digital preservation and archiving," and "web services and information technology." Retrenchments were expected in technical services, metadata, and cataloguing; access services such as circulation; and print preservation and collections management.
Stuff does matter, though. Next on the wish list came buying more "online or digital journals' at about two-fifths (although "print journal subscriptions" was almost invisible at bottom of list), with "facilities" close behind and "technology, systems and infrastructure" next.
There was a big change in the wish list since 2010, the authors reported:
In the area of "discovery tools," there was an incredible shift in the responses relative to a similar question in the 2010 survey. Then, 41% of respondents said that they would like to invest the additional money in tools for discovery, while in 2013 only 16% of respondents said they would like to invest more in this area. This may suggest that many of the libraries that wanted to make more investments in discovery systems and services have already done so, and thus the level of new spending in this area will level off or decline in the future. Interest remains stronger among master's and baccalaureate institutions than among doctoral institutions.
The librarians reported that of  the money they do have for materials, more than half goes to online or digital  journals or databases (about 70 percent for doctoral libraries), while less than 20 percent is going toward print journals and print books (a reduction especially pronounced at the doctoral schools).
But not all digital materials are created equal. The authors posed the statement to both faculty and librarians in the last two surveys, "Within the next five years, the use of e-books will be so prevalent among faculty and students that it will not be necessary to maintain library collections of hard copy books." While there's more agreement with this with faculty in 2012 and librarians in 2013 compared to the two surveys from three years previous—but the acceptance still hovers around 10 percent mark.
And while faculty was more in agreement on the rise of the e-book, they were far below library professionals in being comfortable with cessation of print journals, the authors of the survey reported. Presented with these statements like these about journals: "Assuming that electronic collections of journals are proven to work well, are readily accessible and are digitally preserved, I would be happy to see hard copy collections discarded and replaced entirely by electronic collections" and "I am completely comfortable with journals my library subscribes to ceasing their print versions and publishing in electronic-only form," about half or more of librarians agreed Faculty acceptance was closer to 40 percent.
Given that the pro e-book numbers were so low for all concerned, it's not hard to see these two somewhat conflicting impulses co-existing. But its indicative that, and Marcum noted in the preface, of both the challenges and the opportunities awaiting academic libraries in the digital age.
---