---
Last week a new video started making its viral rounds as an addendum of sorts to President Obama's proposed $3.9 trillion budget for the 2015 fiscal year. Named as a call to action, the "Close the Innovation Gap" video urges rank-and-file Americans to contact their members of Congress and tell them that funding scientific research and higher education must be a priority in any final spending plan.
"If the United States is to remain the world's innovation leader," the narrator says over a jangly, upbeat guitar, "we must close the innovation deficit by growing and sustaining federal investment s in scientific research and education. We need students and teachers who are challenged to think critically and ask tough questions.  We need laboratories to break new ground. We need universities that attract and grow great new thinkers."
And so to fulfill the president's call for making "smart investments necessary to create jobs and grow our economy," the backers of the new InnovationDeficit.org argue one very smart investment is in research and higher education.
According to the video, the "innovation deficit" arose after several years of flat or declining federal spending on research, an artifact of the Great Recession, compounded by the self-inflicted wound of sequestration. That created "the widening gap between the actual level of funding for research and education and what the investment needs to be if the United States is to remain the world's innovation leader."
With the budget noose loosened, now is the time to act, explained Barry Toiv, vice president for public affairs at the Association of American Universities, one of the initiative's 14 current partners. "It's particularly important this year in that Congress, within tight constraints, finally has ability to prioritize spending after several years living under continuing resolutions and sequestration. Those are the kind of mindless formulas that leave congress little room for negotiations," Toiv, once a deputy press secretary in Bill Clinton's White House, explained.
(For the record, the AAU, for one, is "disappointed" in Obama's proposed budget. "The unrealistic caps on discretionary spending have made the Administration's job extremely difficult, and we appreciate the effort to fund additional research through a separate initiative, but we strongly believeresearch investments should receive greater priority under the caps.")
---

Members of Innovation Deficit

Aerospace Industries Association

American Association for the Advancement of Science

American Council on Education

American Heart Association

Association of American Universities

Association of Public and Land-grant Universities

Business-Higher Education Forum

Council on Competitiveness

Federation of American Societies for Experimental Biology

Information Technology & Innovation Foundation

Semiconductor Industry Association

Task Force on American Innovation

Science Coalition

United for Medical Research

---
Now is also the time because other nations are not standing still, or sliding backwards, in their R&D spending. "Our concern is that if we don't close the innovation deficit," he said, "in the long-term they will catch up and supplant us as the world innovation leader." It's not that other countries' investments in research and education hurt the U.S., he added—"that's a good thing, ultimately"—but that the U.S. will suffer if falls down the ranks. "We also compete, and there is a benefit to this country being the global innovation leader, benefits for our economy, in particular. If that's threatened, there will be consequences later."
But is all innovation created equal?
Some specific innovations with federal roots were cited– vaccines, lasers, MRI, touch screens, GPS, and of course, the internet—all of them relatively techy. No specific innovation arising from the social sciences were named, nor was there any specific mention of the social sciences in the video or its accompanying website—although no specific disciplines fields beyond engineering were cited, either. But while the less-than-4-minute video was not explicit about it, Close the  Innovation Deficit is in there punching for social science, too, Toiv said.
"It's sort of assumed, especially when we're talking about the National Science Foundation, which is the number one funder of social science, that social science is part of what we're talking about. It's obviously a critical element of this campaign."
Speaking specifically about the AAU and the Association of Public and Land-grant Universities—their joint ad in the Washington insiders' publication Politico sparked the Close the Innovation Deficit campaign last July–Toiv noted "we've always been very strong advocates of investments in the social sciences."
Of course, going to bat for an economist or a geographer might be harder a sell for a public that can easier divine innovation in the work of a vaccine researcher or computer engineer. "I understand that," Toiv acknowledged. "There's a lot of rhetoric out there that social science is not real science of that it's not important. They'll try and pit one area of research against another." Despite that, he said Close the Innovation Deficit will battle any efforts to pick away at the research herd.
Toiv ticked off three reasons buttressing that stance:
–          Social science is peer-reviewed research, "just like the physical sciences;"
–          Social science is critical to innovation: "It's hard to separate social science from the physical sciences, and foolish to try and do so;" and
–          While opponents will undoubtedly point to examples of social science (and other basic research) that looks weird and therefore wasteful, the partners know that both the laughable and the theoretical often result in very practical benefits.
On that last point, Toiv cited the Golden Goose Awards, which spotlights such surprising success stories. Last year, for example, a 1960s social science experiment – funded by NSF and the Office of Naval Research — that attempted to quantify what made for the perfect romantic match received a Golden Goose for creating an algorithm now used to craft markets for transplant organs, college roommates, and novice doctors. "That would have been an easy one to laugh at," Toiv noted. (Members of a number of pro-R&D lobbying groups like Golden Goose, Close the Innovation Deficit and the Task Force for American Innovation often belong to several of the organizations. While these groups are generally allied, conceptually and at times formally, they are not identical, Toiv said.)
He added that as federal paring knives come out specifically for the social sciences, the Close the Innovation Deficit campaign's commitment will grow commensurately.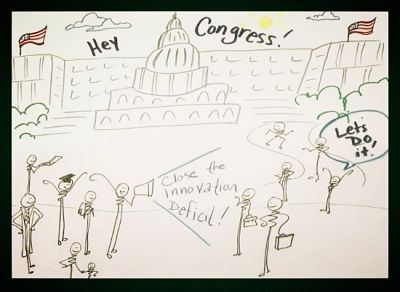 As Paula Skedsvold, whose been advocating for behavioral science for more than half a decade at the Federation of Associations of Behavioral & Brain Sciences, wrote last week, legislators are thought to be gunning for social science funding. "If the threats to the behavioral and social sciences materialize when the House [Frontiers in Research, Science, and Technology and America COMPETES bills are] introduced in the coming weeks, scientists must be prepared to act," she said.
That sort of bottom-up lobbying is a relatively new tack for both researchers and the societies that promote their interests. And while Close the Innovation Deficit, the Task Force on American Innovation and others like FABBS continue their traditional Capitol Hill buttonholing, Close the Innovation Deficit also will focus on making the underlying message both viral and sticky
"We don't do a lot of grassroots lobbying," said Toiv. "We don't ask a million people to write to their member of Congress." In this case, though, the campaigners want their obvious and important constituencies—including business, national security and health care—acquainted and vocal about why it's important to make these investments and "make it clear that there are a lot of people in the public who care about this."
---