---
Oftentimes hailed as a unique model of post-racial society (i.e. the so-called 'racial democracy'), the Brazilian elite have an enduring resistance to acknowledging the existence and the pernicious effects of racism in shaping the country's contemporary social relations.
Given that, the newest move reinforcing this denial has been manifested by the elected far-right president Jair Bolsonaro. During his campaign he trumpeted the motto "Brazil is my colour,"and after elected he has claimed that "we are a single people under a single flag, and a single green and yellow heart."
This sort of claim clearly resembles the prevailing discourse in Brazil in the late years of the 19th century soon after the country emancipated its slaves in 1888. The lyrics of The Hymn of the Republic, composed just two years after the end of slavery, already denied the existence of slavery and its strong negative legacy upon the Black community. It brings the following verses:

"We do not even believe that slaves once/There have been in such a noble country…/Today the flash of dawn/Finds brothers, not hostile tyrants./We are all the same!"
– The Hymn of the Republic
Consequently, in line with the lyrics, Bolsonaro's claim reinforces this very same idea of their relevance of Brazil's enduring racial inequalities whilst conveying an imagined unified national identity that should be above any sort of social or racial inequality. Bringing nationalist symbols to the foreground overlapping 'color' changes people's perception of racial issues and position them in the background.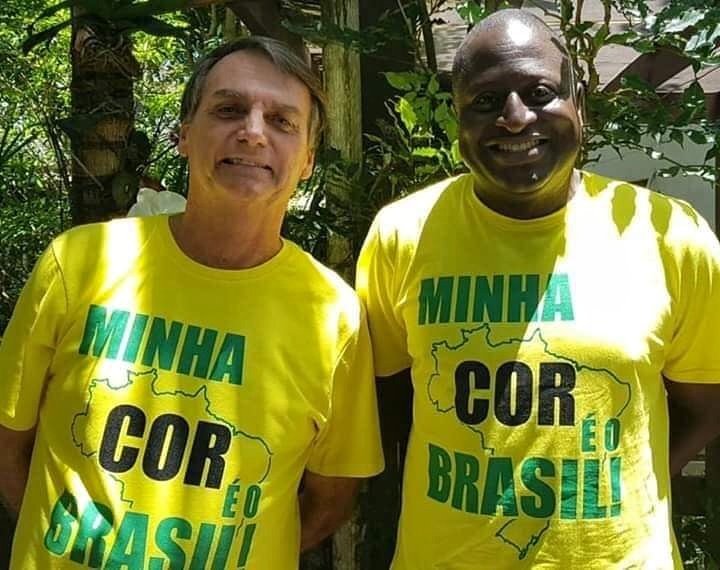 Evolving from there, what is the embedded discourse in Bolsonaro's motto "Brazil is my color?" Briefly, it conveys the idea that racial-based inequalities would be in existent, irrelevant or secondary. In fact, advocating the concept of a single unified entity contributes to delegitimize opposite voices challenging white privileges and also naturalizing the enduring racial inequalities.
Supporting evidence for this analysis is also found in another Bolsonaro's recent statement where he says, "affirmative actions split Brazil in half, everything becomes an object of whining by Blacks, minorities, and we will put an end to this." More than an indication of his government's future social agenda, such statements reveal his clear indifference in tackling Brazil's enduring racial-based inequalities. In fact, such a statement is not only consistent with the discourse embedded in his motto, but reinforces it.
In addition, the colors of the T-shirts promote the motto were not chosen at random, but they also convey meanings that are easily decoded by Brazilians. Green and yellow are among Brazil's national colors (alongside blue and white), which contributes to reinforcing Bolsonaro's strong nationalist discourse. The noun 'color', seen in the motto, has been printed in black ink as a means to integrate Blackness into Brazilianess and in the nationalist discourse. In another word, it represents away to convey the idea that "they [Blacks] are also one of us and we are a single people."
On top of that, the "Brazil is my color" motto contributes first, towards positioning debates addressing racial-based inequalities in Brazil as a secondary issue.Second, it avoids constructive discussions regarding social policies meant to tackle ingrained racism. Third, it delegitimizes any demands towards greater racial equality raised by the civil society. Finally, it is also interesting to observe that one of Bolsonaro's major supporters of this message has been a newly-elected Black congressman based in Rio de Janeiro (Hélio Fernando).During his campaign, he has proudly identified himself as "Bolsonaro's Black guy" and said that his candidacy represents a strong evidence to refute any claims of racist bias in Bolsonaro's persona.
Thus, on one hand, the "Brazil is my color" motto contributes to diminishing the relevance of any racial debate. On the other hand, being endorsed by an emerging Black male political figure in Rio de Janeiro aims at influencing the Black community's views towards looking at the racial issue through Bolsonaro's lenses.
Coincidentally or not, this particular endorsement conveys an additional subtle meaning. Early in 2018, a Black female city councilor (Marielle Franco) was assassinated in Rio. Since she was a strong emerging voice demanding greater gender and racial equality, Bolsonaro's discourse endorsed by a local political figure (in)directly undermines the agenda advocated by the assassinated city councilor and her supporters. Moreover, it establishes a counter-narrative aligned with his discourse of "we are a single people."
On top of that, it is also relevant to notice that Bolsonaro has on his curriculum an impressive track record of unusual statements about several social groups (e.g. women, LGBT, migrants,and Black people). Within that, one of his best-known remarks about Black people was delivered during a lecture to an audience of business people in April 2017. Talking about his visit to a Black rural community a few weeks earlier he said, "the slimmest Afro-descendent amongst them weighed seven arrobas and was not useful even for procreation."
One of the several problems with this statement is that 'arroba' is a colonial unit of measurement applied to indicate the weight of cattle rather than people. After being questioned by the press in regard to the racist tone of this statement he claimed that "it was just a harmless and innocent joke."
Hence, such a controversial track record turns his political positions and views considerably problematic for Black Brazilians, first due to his apathy to support and/or implement social policies to tackle racism. Second, it also reveals his disdain and disrespect towards ethnic minorities, and finally, such discourses contribute to naturalize racial prejudice in the collective mindset of his followers and the wider society at large.
In conclusion, the discursive strategy advocated by Bolsonaro contributes to evidence the fact that the Brazilian 'racial democracy' ideology remains strong and vivid in the mindset of the political elite. Moreover, it renovates it self in different discourses over time and, as a consequence, serious and constructive debates addressing the country's enduring racial-based inequalities are constantly and repeatedly postponed, ignored and treated as irrelevant or out of place.
---